Give your existing kitchen cabinets a high-end designer look with these professional refinishing tips.
Luxe Gray Kitchen Cabinets
The 11-year-old contractor-grade cabinets of this Atlanta kitchen were given a high-end update with a sprayed finish and satin brass hardware.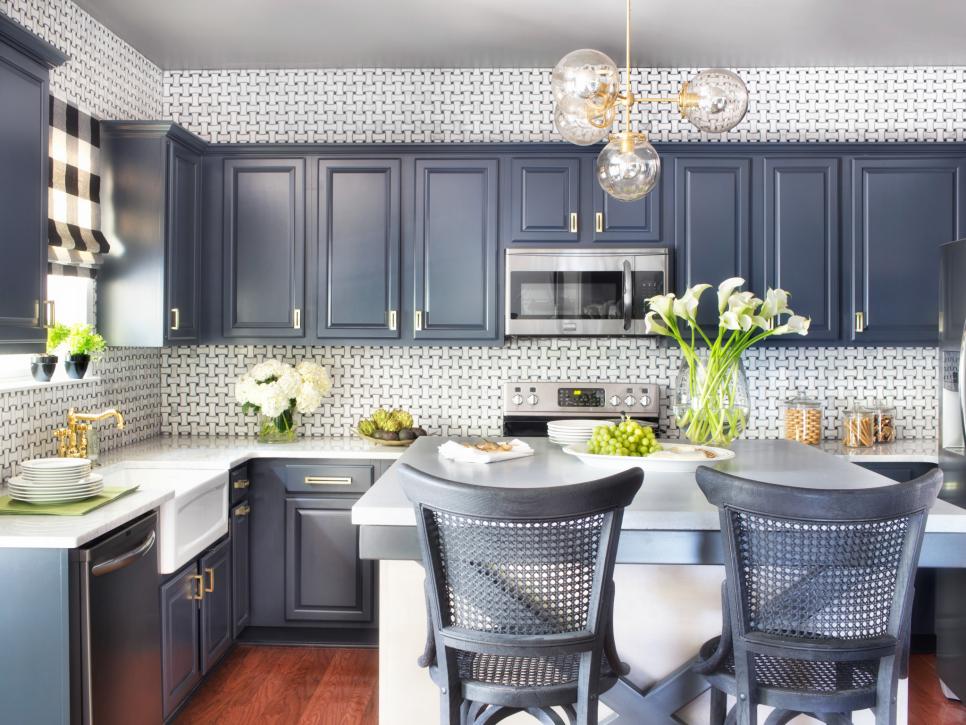 Before
In its original state this kitchen featured blonde-toned contractor-grade cabinets that the homeowner planned to rip out and replace. After talking with a designer, he decided to update them with charcoal paint and stained brass hardware for a sharp, dramatic contrast.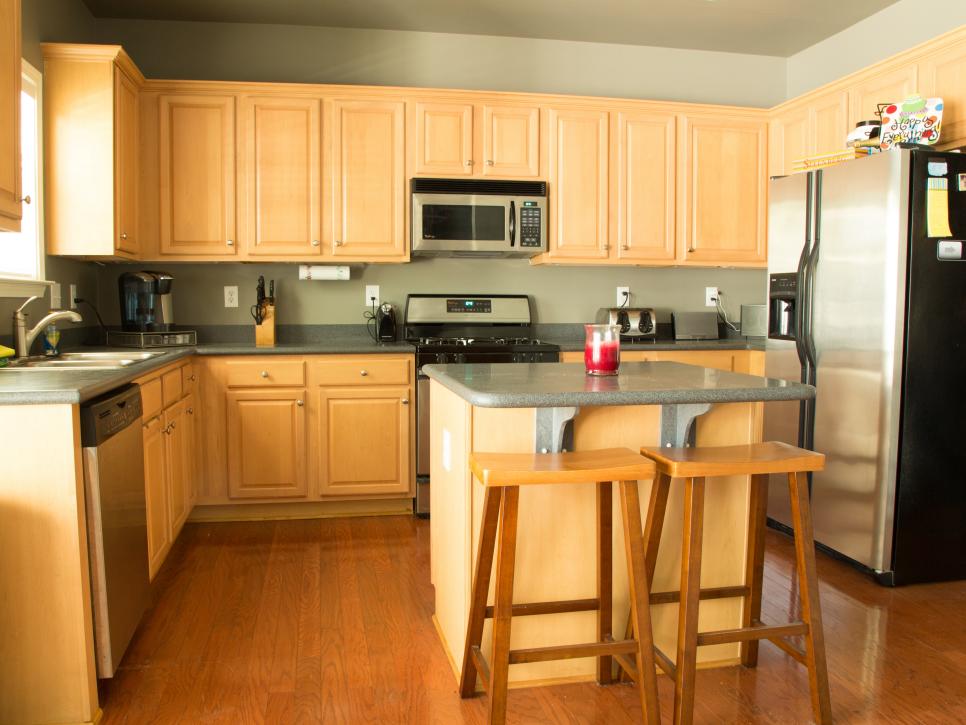 Project Cost and Timeline
While estimates for brand-new custom cabinets start at $12,000, this DIY refinishing project cost $200 in supplies. If tackling a project yourself, it's best to allow two full weekends to complete. Homeowners interested in hiring a cabinet refinishing professional (for kitchens 200-square-feet or smaller) should expect to spend between $900 and $3,000 for labor and transportation costs.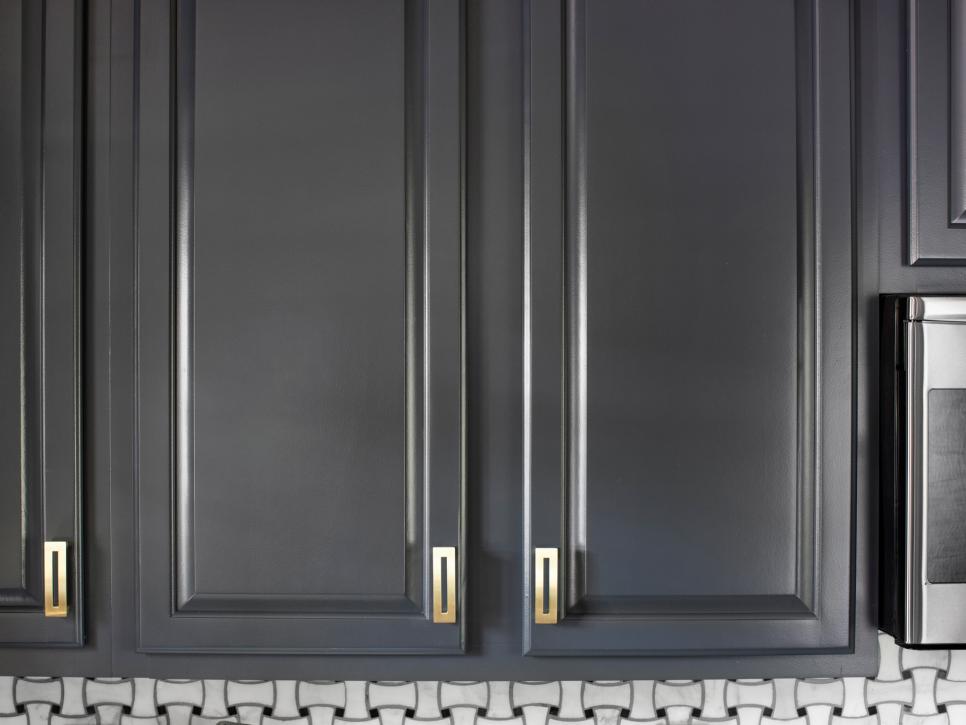 Label With Tape
One of the biggest problems homeowners face when reinstalling cabinet door fronts is determining which door goes with which opening. Although doors may appear to be the same size, many vary by as much as 1/4 inch. To avoid confusion, label each cabinet opening and door front with corresponding numbers marked on painter's tape. Remove the labels before spraying cabinet door fronts and casings with primer and paint, then replace once dry to prepare for reinstallation.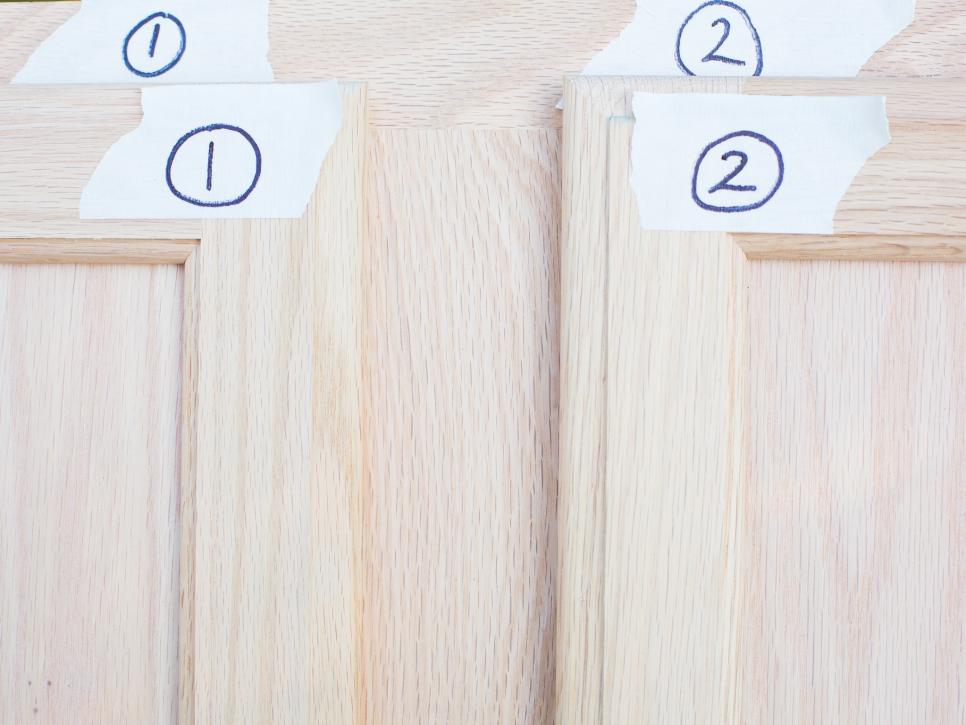 Fill the Holes
If you plan to add new hardware to your cabinets, remember that it's unlikely existing hardware holes will line up with new screws. Fill each hole with wood putty, from front to back.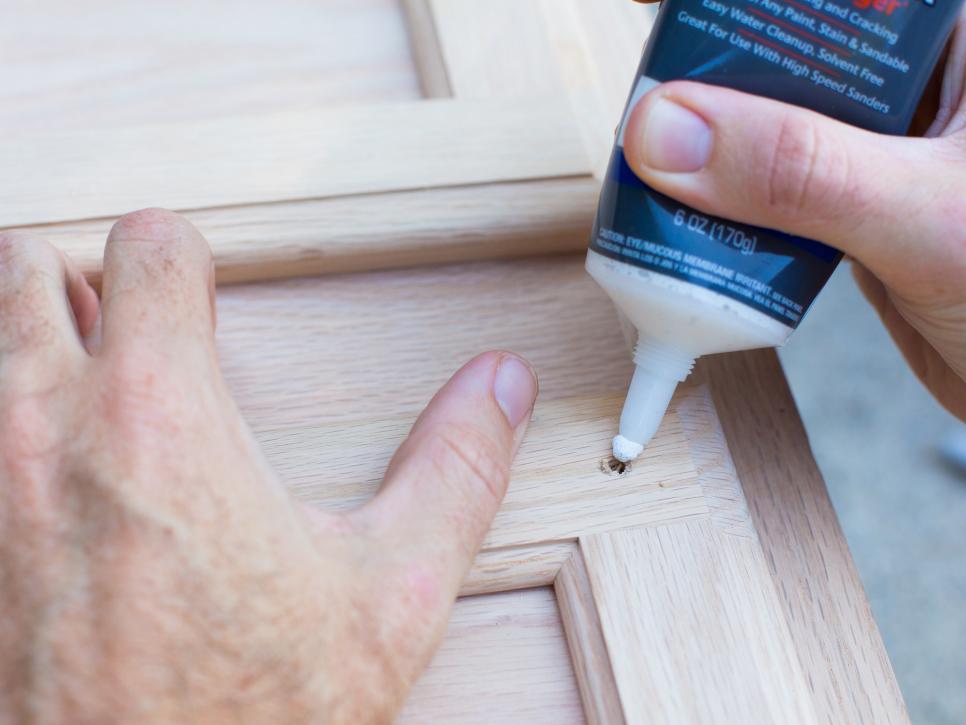 Lightly Sand Surfaces
Sanding is important for several reasons. First, it removes any existing sheen or protective sealant from cabinet drawer and door fronts, allowing primer and paint to bond effectively to the surface. Once applied to areas prepped with wood filler or putty, it also helps to smooth out any existing scratches, dings or nicks. Fine-grit sanding blocks or pads work best for most cabinet and drawer fronts; however, rough-grit sandpaper is suitable for cabinet and drawer fronts with heavy layers of lacquer or shellac.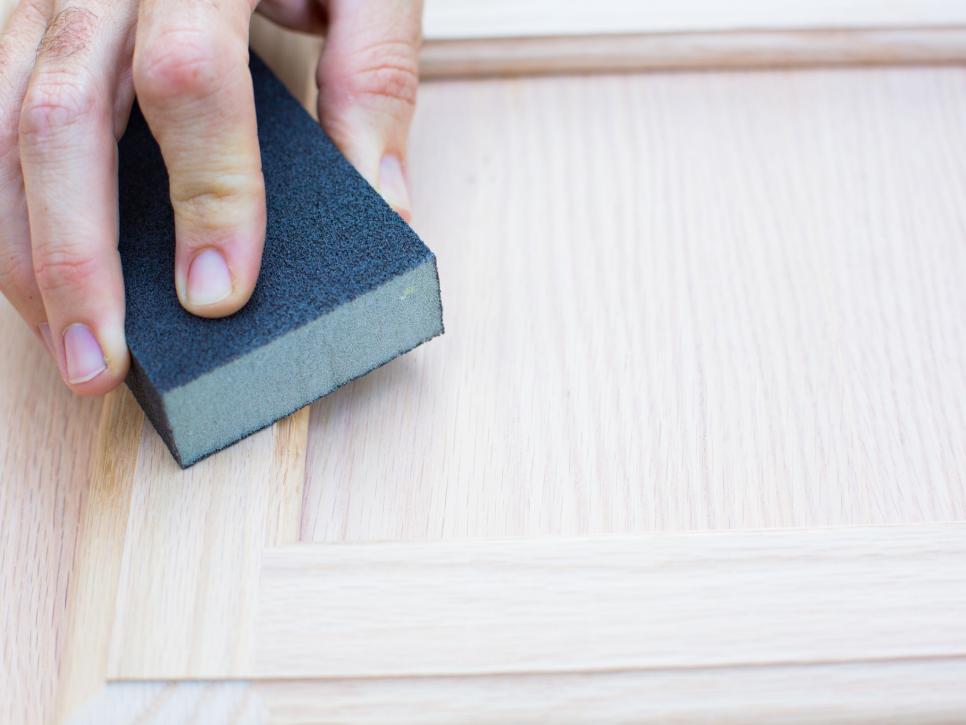 Invest in Primer
Professional painters use stain-blocking primer not only to create an effective bonding surface for paint, but also to reduce the number of coats. Homeowners using light colors will likely require one coat each of primer and paint. Those using dark or bold shades of paint should opt for a tinted primer. To create a tinted primer, a paint technician adds a base similar in tone to the paint, ensuring efficient coverage.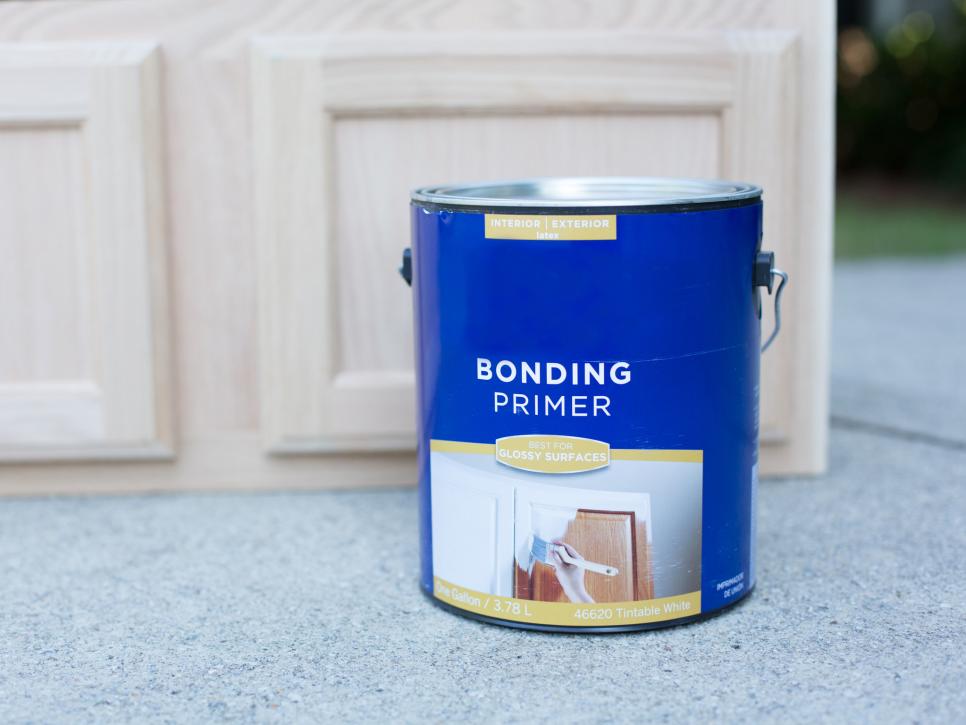 Use an HVLP Paint Sprayer
Homeowners can achieve two different looks with painted cabinets: a sprayed, factory-like finish, or a hand-painted finish with prominent brush strokes. The latter requires a steady hand and great patience, but a sprayed finish is the result of a high-volume, low-pressure (HVLP) paint sprayer. These can be rented from most home improvement stores for about $100 per day. Paint is loaded into a container attached to a spray gun. Once filled, it sprays a fine mist of paint in an even stream, resulting in a clean, even finish. For the smoothest coverage, hold the tip of the spray gun at least 8 inches from the surface of the cabinets and apply using a controlled back-and-forth motion.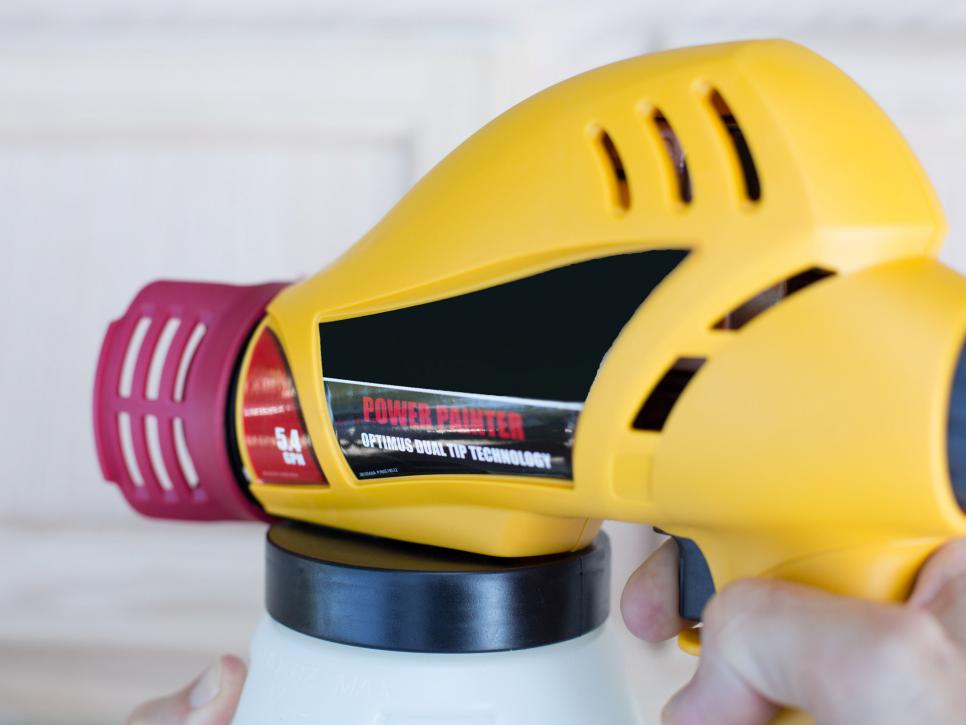 Mark With a Jig
Jigs and multimark tools are excellent for seamlessly installing hardware. Similar to rulers or protractors, these small tools come with pre-drilled holes or, alternatively, can be set to different positions with a small dial. Once the desired dimensions are set, the jig or multimark tool can be placed along the edge of each cabinet or drawer front, then marked with a pencil. Since the dimensions are predetermined, the markings will remain consistent as the tool is used for each door and drawer front.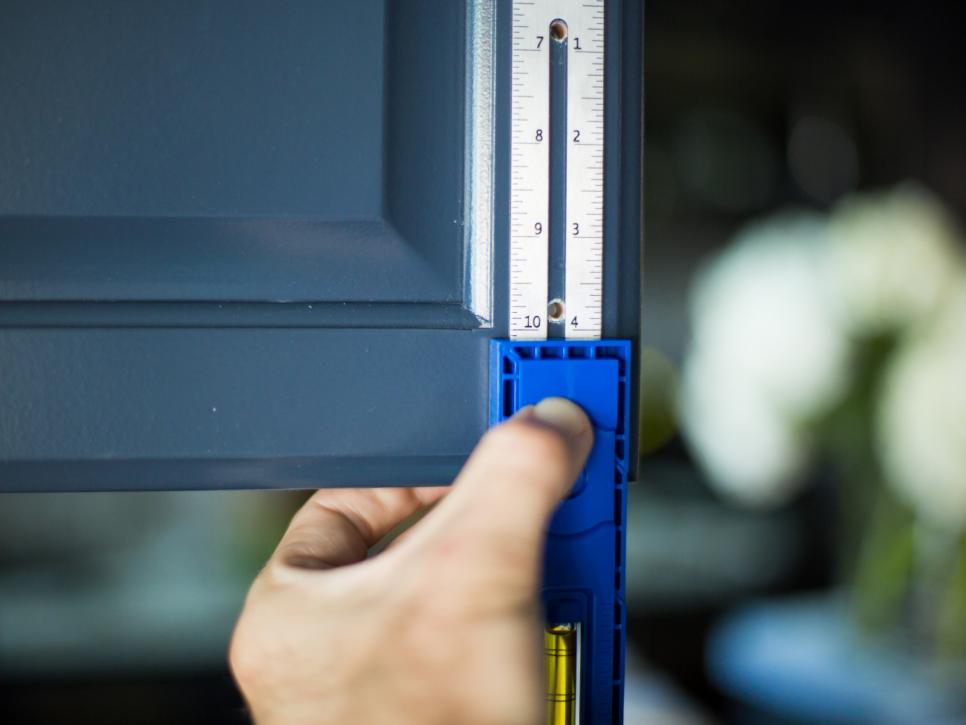 Touch Up
It's likely that door and drawer fronts will be nicked, scraped or scratched during transport. Once all door and drawer fronts are installed, any small imperfections should be touched up with a detail brush. If touchup is attempted with a basic paintbrush, a blemish will likely result, making the finish appear uneven or blotchy.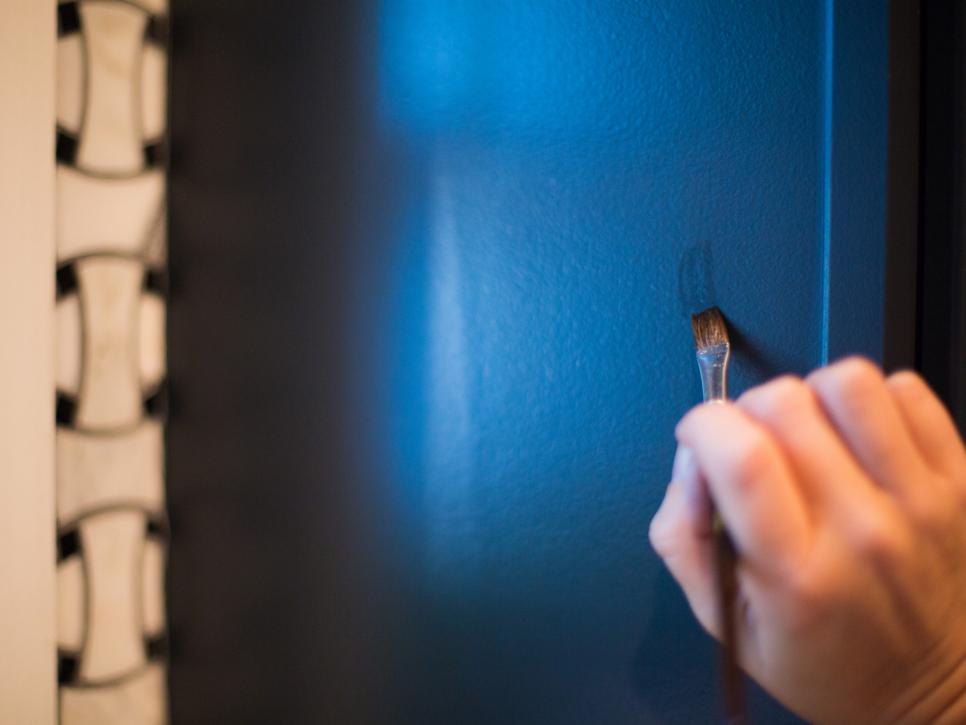 Install Hardware
Playing with hardware size and scale is a great way to add designer flair to cabinets. Consider varying sizes of door and drawer pulls, yet sticking with similar styles and finishes. Here the pulls used on the door fronts are 3 inches in width, while the drawer pulls are 7 inches wide. Paired with small cabinet pulls, the extra-wide drawer pulls help to visually anchor the cabinets.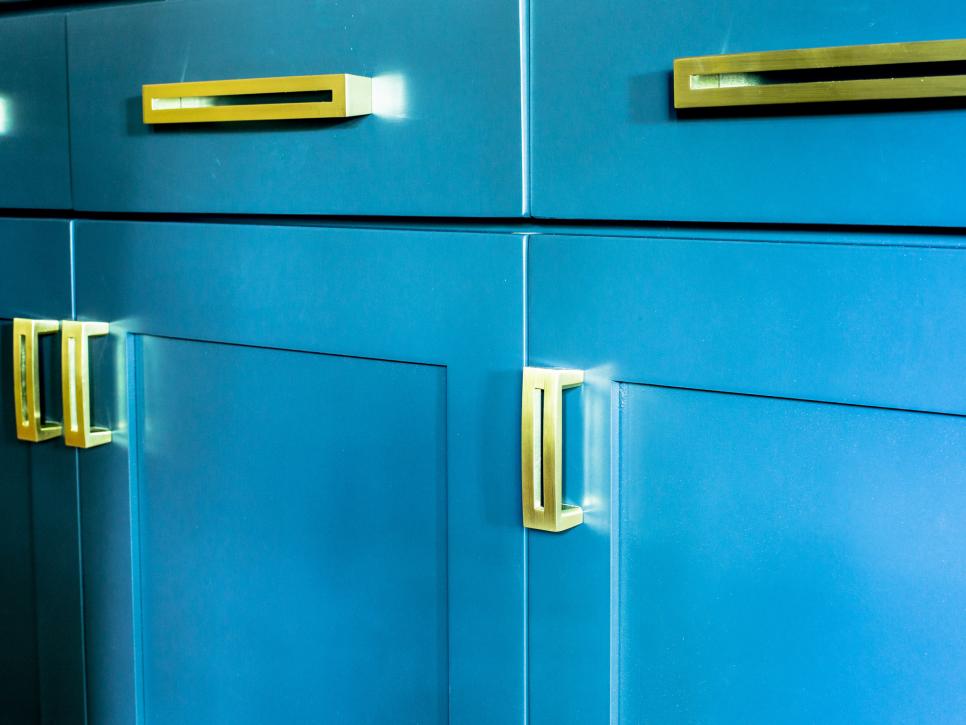 Add Felt Door Dampers
It's important to protect the backs of newly painted door fronts from the casing surrounding them. Over time, opening and closing your cabinets is likely to damage their paint finish. Easily protect both doors and casing by adding felt pads to the bottom corner of each door.