One of the most common questions we get from investors is how to use the features and functionality of the Roofstock marketplace to find the right investment property for them.
In this post, we'll show you 7 pro tips to help you do just that.
Let's start with the basics before moving on to some more advanced tips (skip to #4 if you're already pretty familiar with filters, the diligence vault, and customizing pro-formas).
1. Setup Filters to Find The Right Properties For You and Get Alerts
One of the first things we recommend investors do after they browse the property marketplace is to set up and save at least one filter so they start to receive property alerts. You can filter off many different factors, including cap rate, year built, location, and neighborhood rating.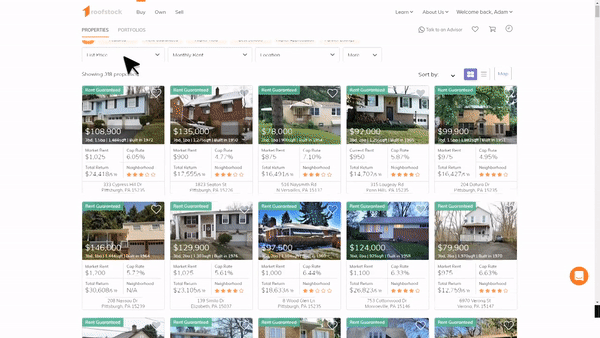 You can access your saved filters here: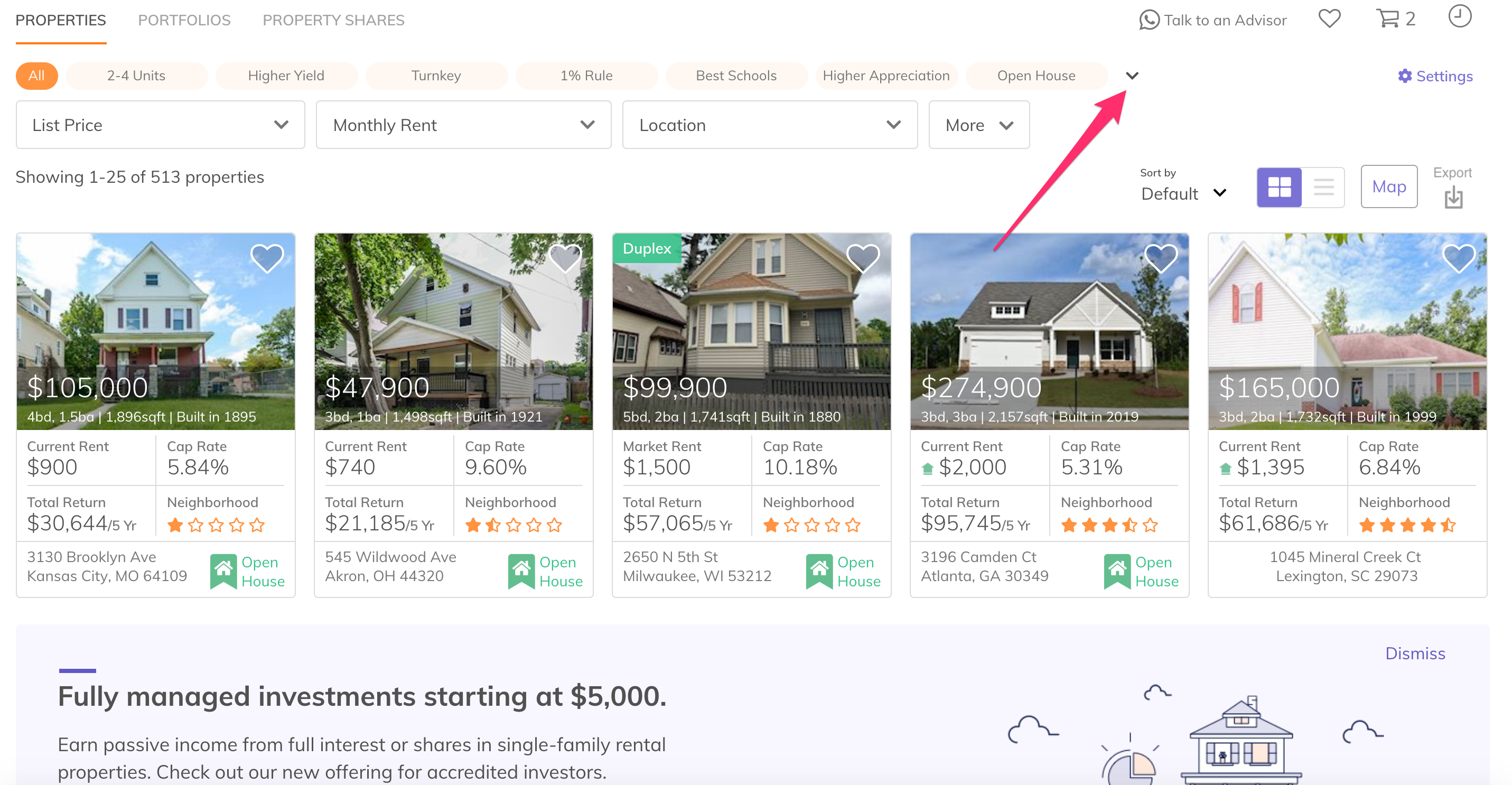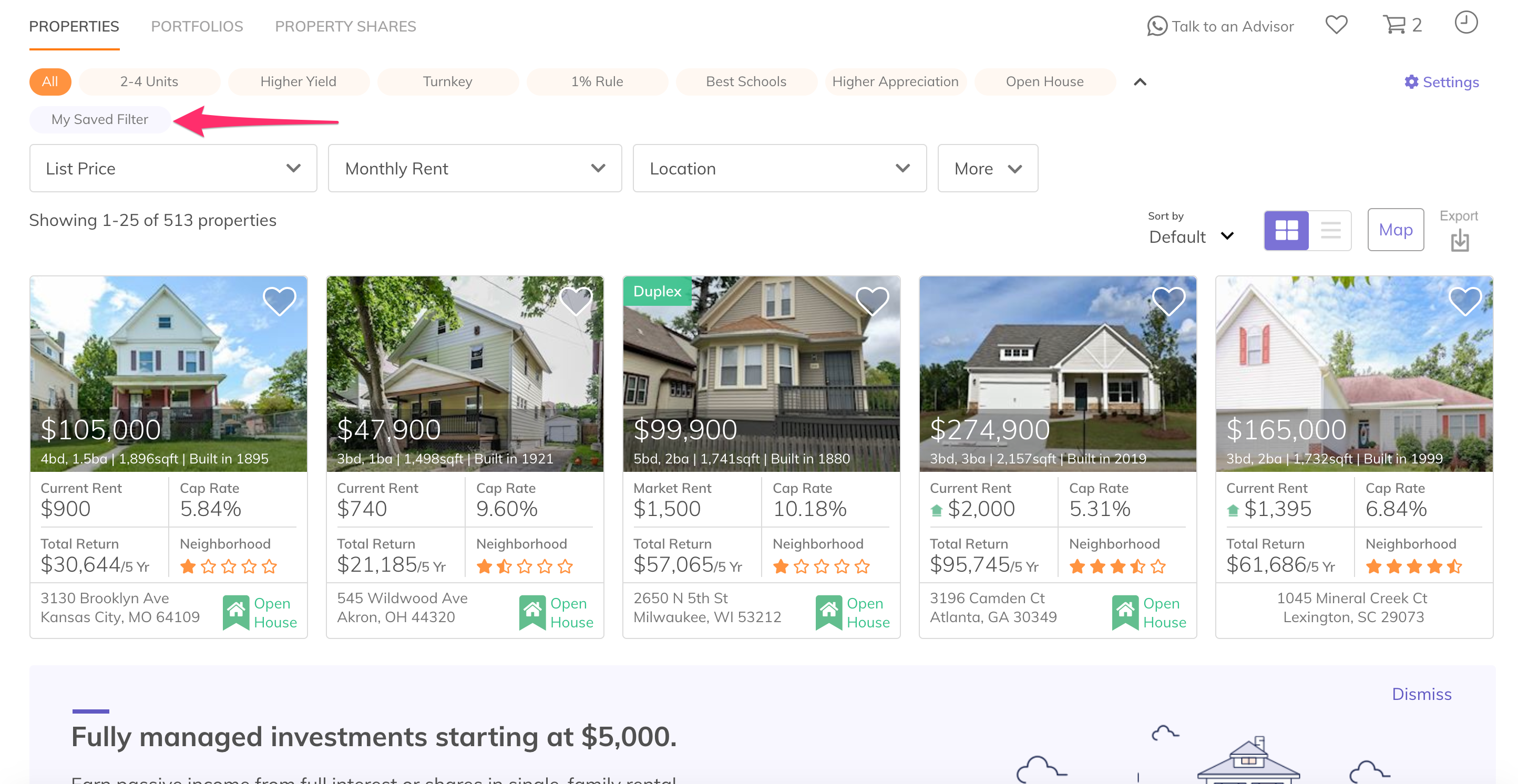 2. Access Diligence Materials
For every Roofstock Exclusive property on the marketplace, we provide investors with the diligence material, such as the home inspection report, property valuation report, and the tenant payment ledger (if the rental is occupied).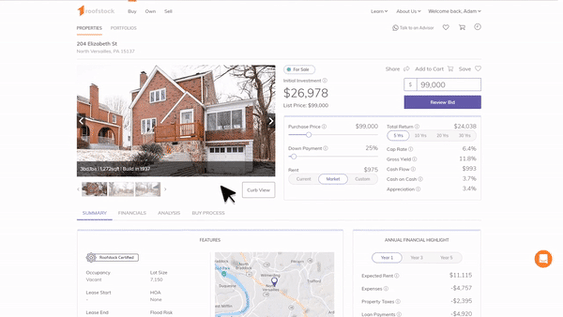 This is one of the most highly appreciated features of the Roofstock marketplace. Investors love being able to get all the information they need upfront to make a smart investment decision, especially since almost all investors are buying properties sight-unseen.
3. Customize Financial Assumptions
Roofstock, in general, uses conservative estimates as the default view for financial projections, but investors can customize all expense estimates which then updates financials in real time.

4. Find Discounted Properties to Get Built in Equity
Using our "Discount to Valuation" filter option, you can find properties that have a list price below the bottom of our property valuation range.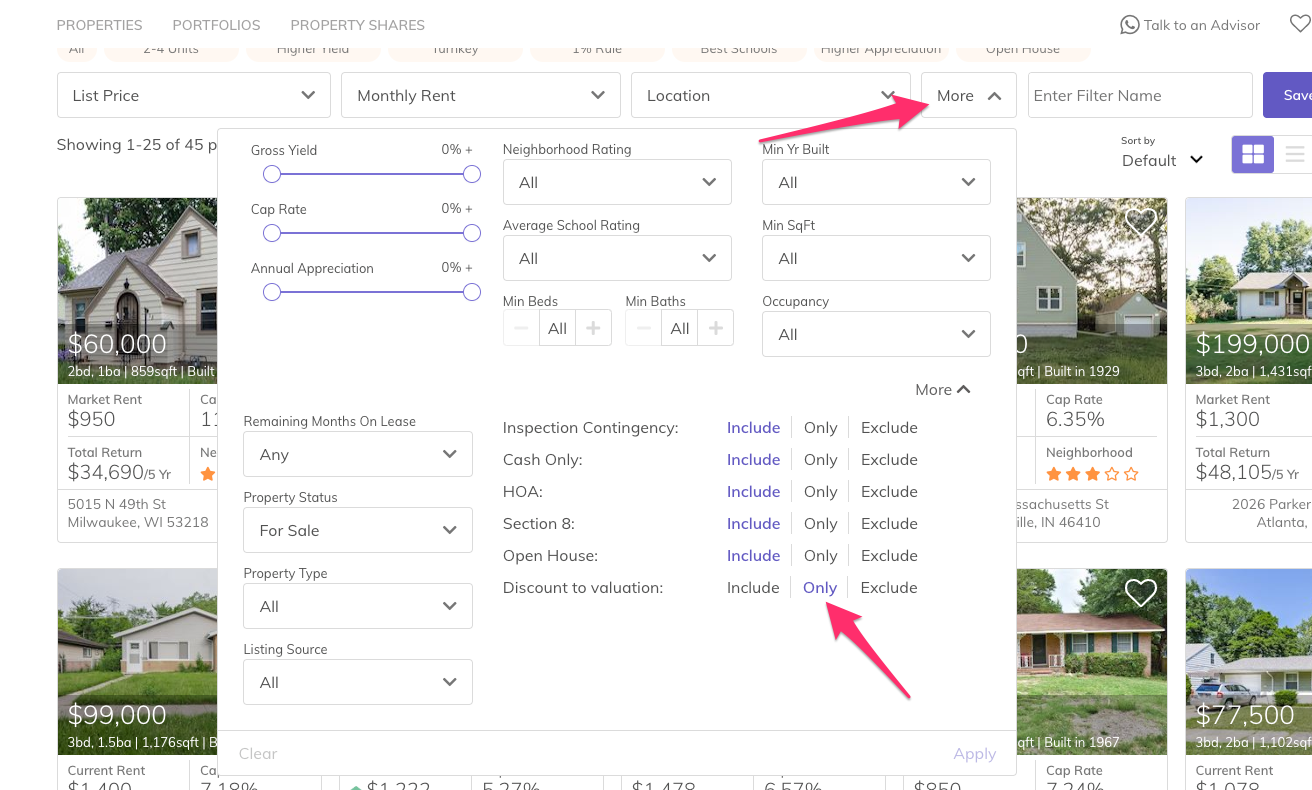 In the example below, you can see that the seller has listed the property for $120,000, but Roofstock's valuation range has it pegged at $139,000 - $159,000.
Buying properties below market value allows investors to have equity in their investment on day 1 and puts them in a great position moving forward. The properties are not always easy to find and can come with higher repairs.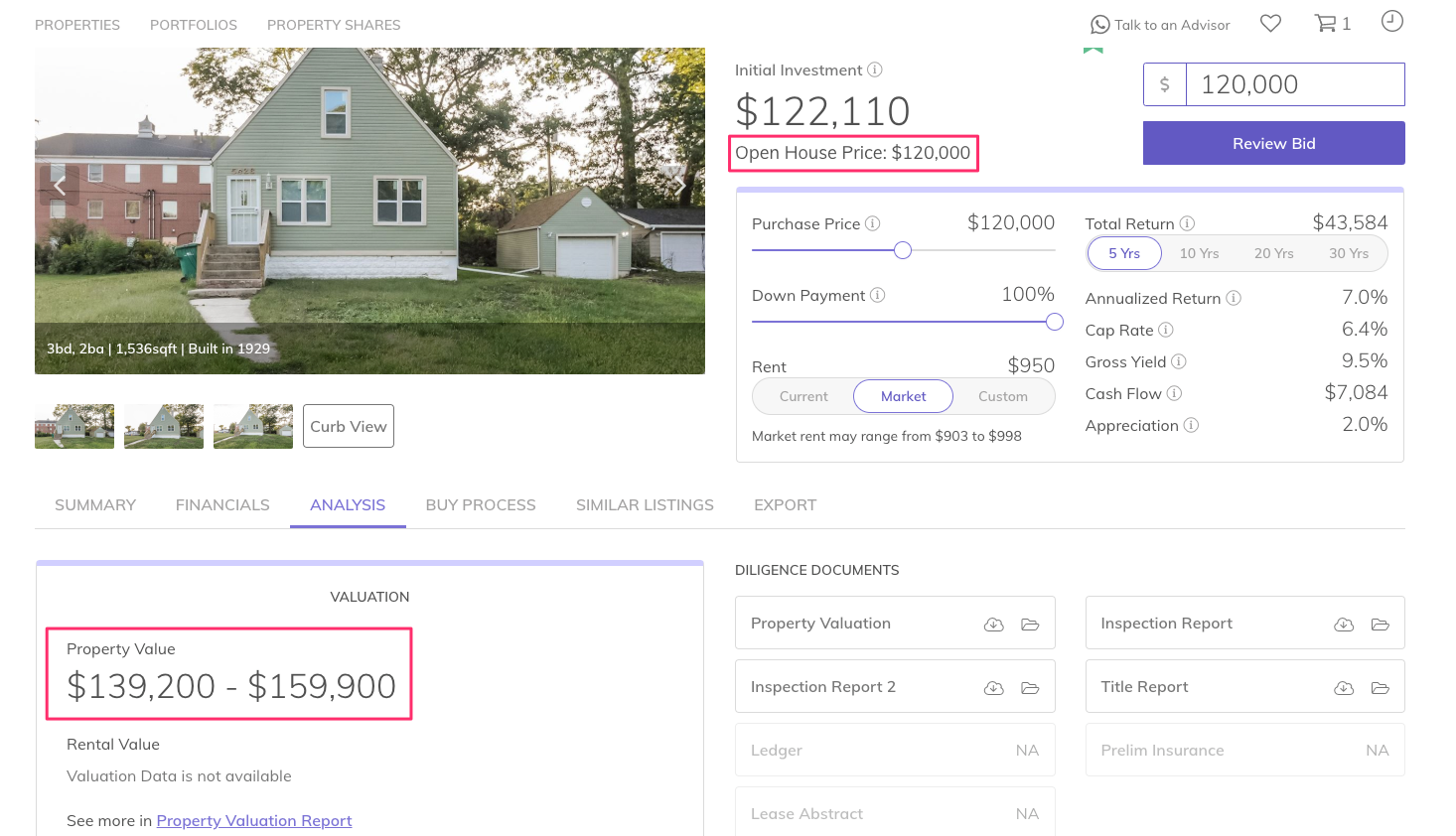 5. Find Higher Cash Flowing Homes
For many investors, cash flow is the holy grail of real estate investing.
With higher cash flow properties, you typically see lower purchase price, higher cash on cash return, and a larger rental pool. However, you'll also see these properties experience slower rent growth, slower price appreciation, and they're more management intensive.
Here's the cheatsheet for identifying properties that fit into this bucket: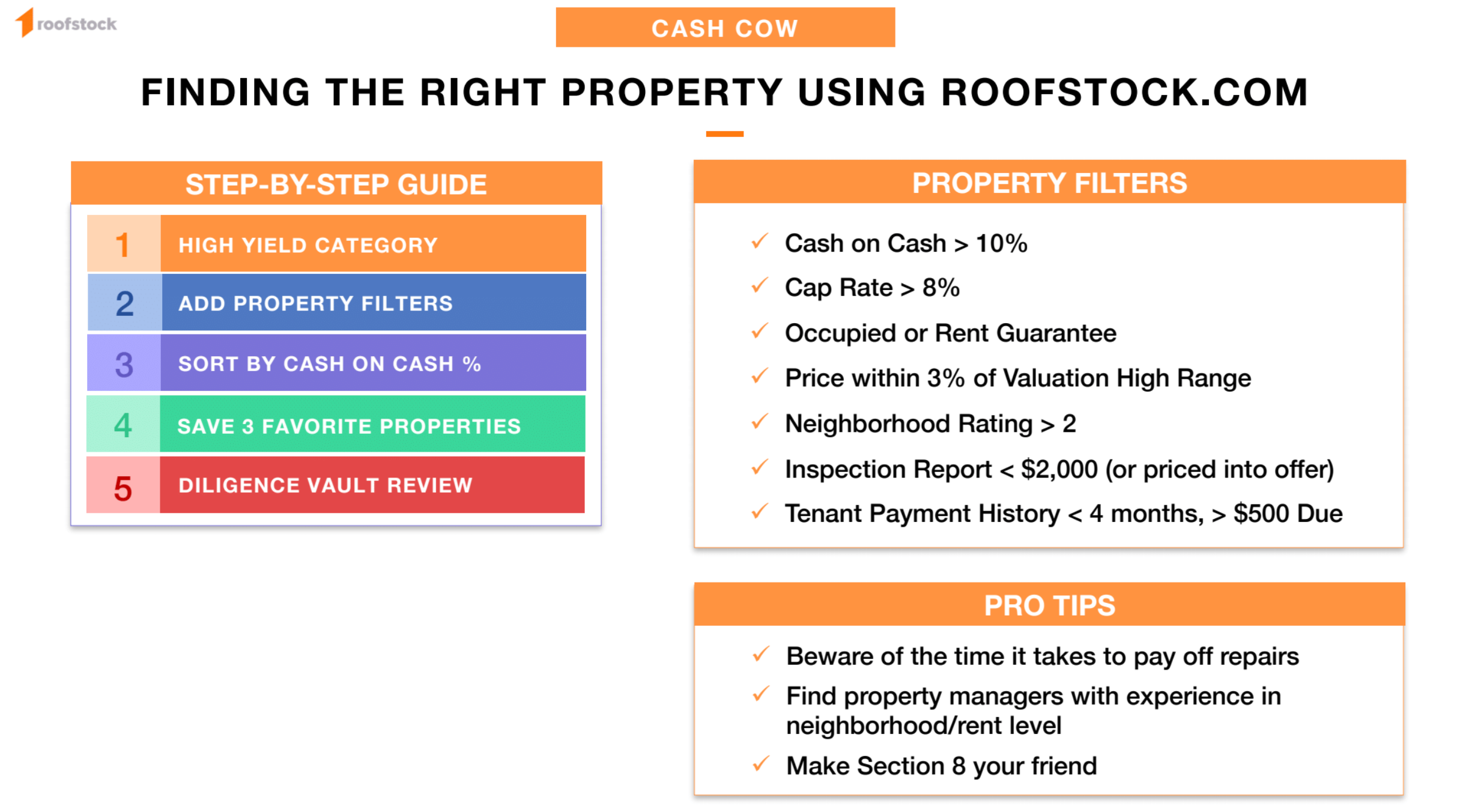 6. Find Homes with Higher Appreciation Potential
Other investors are targeting properties with the highest appreciation potential to grow their net worth and the potential profit from a sale down the road.
Properties with higher appreciation potential have more potential exit strategies and higher rent growth over time. The properties will also have higher purchase prices, potentially longer vacancies, and higher turn costs between tenants.
If appreciation is what you're looking for, here's the cheatsheet for identifying properties that fit into this bucket: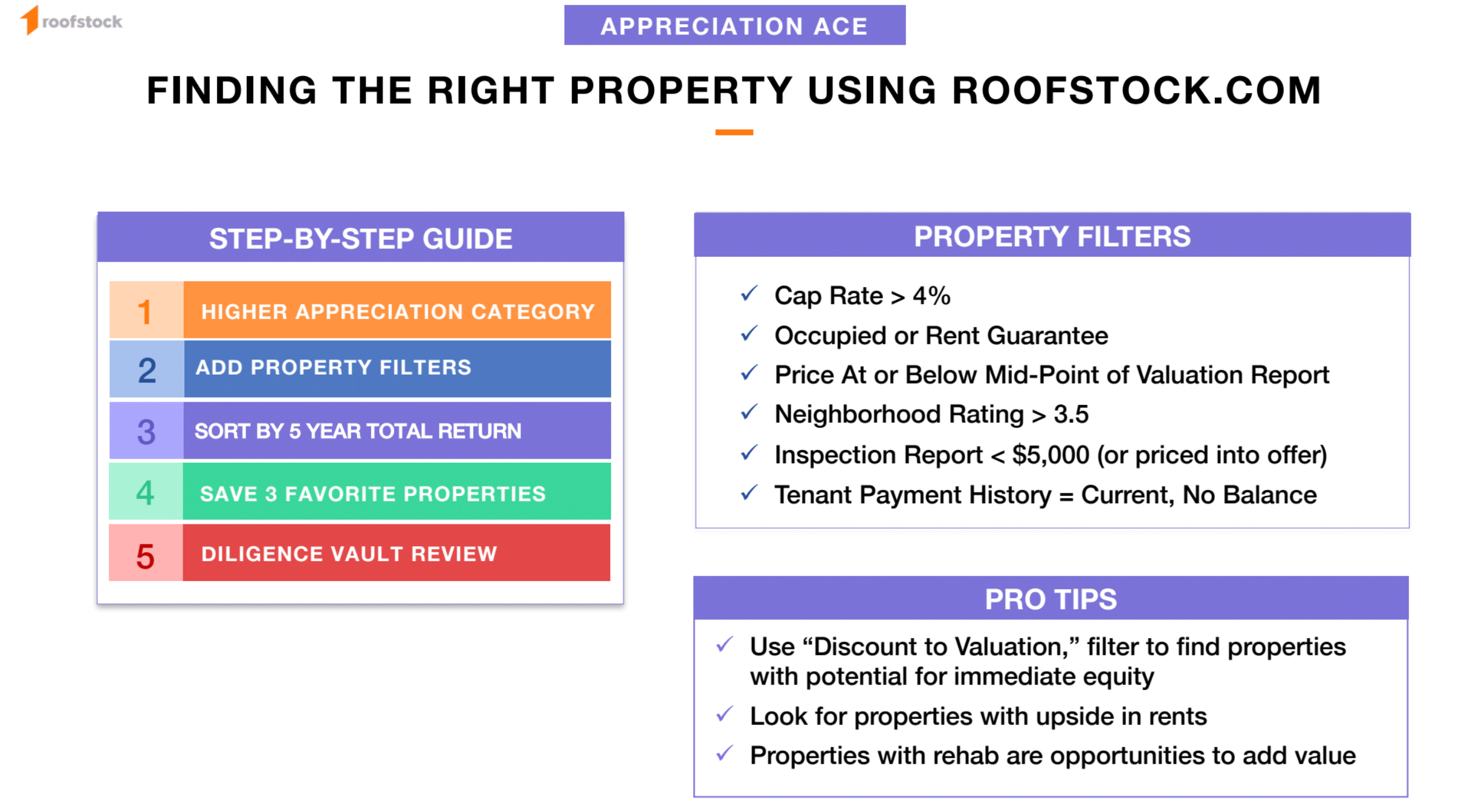 7. Find Homes with a Balance of Appreciation and Cash Flow
And for some investors, they really want a blend of cash flow and appreciation potential.
As compared to high appreciation potential properties, balanced properties come with better cash flow, a lower purchase price, and are easier to finance. However, these properties are also typically harder to find, are older builds, and experience competitive bidding processes.
Here's the cheatsheet for finding balanced properties on the marketplace: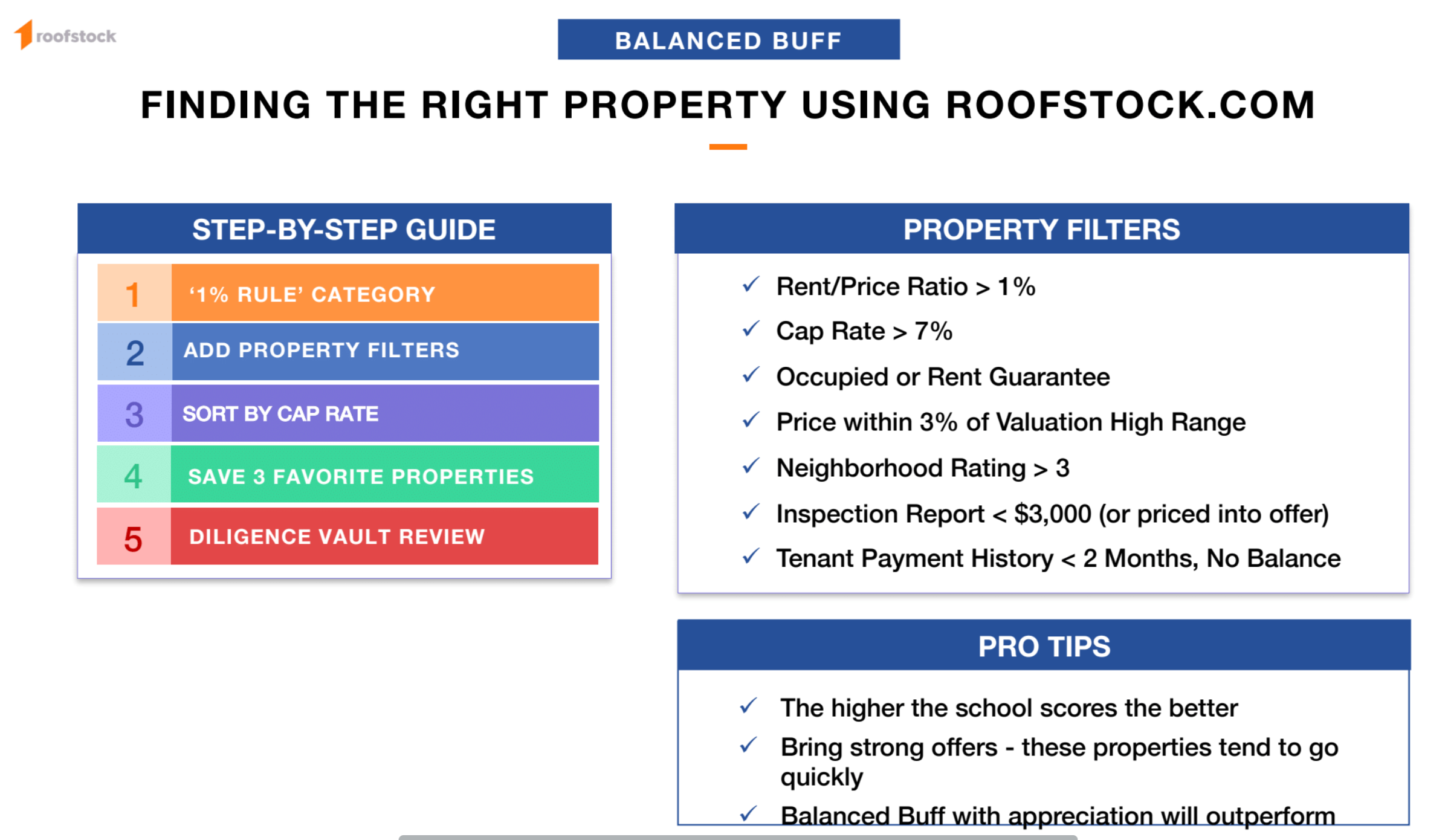 BONUS: Find Properties with Potential to Increase Rents
For each property listed on the marketplace, Roofstock gives a range for the market rent on a property. You can find this amount by toggling from Current Rent to Market Rent here:

Going off the example above, when I toggle over to Market, I can see that the market rent range for this property is actually $2,185 - $2,415 (or ~$2,300 if we go with the middle of this range):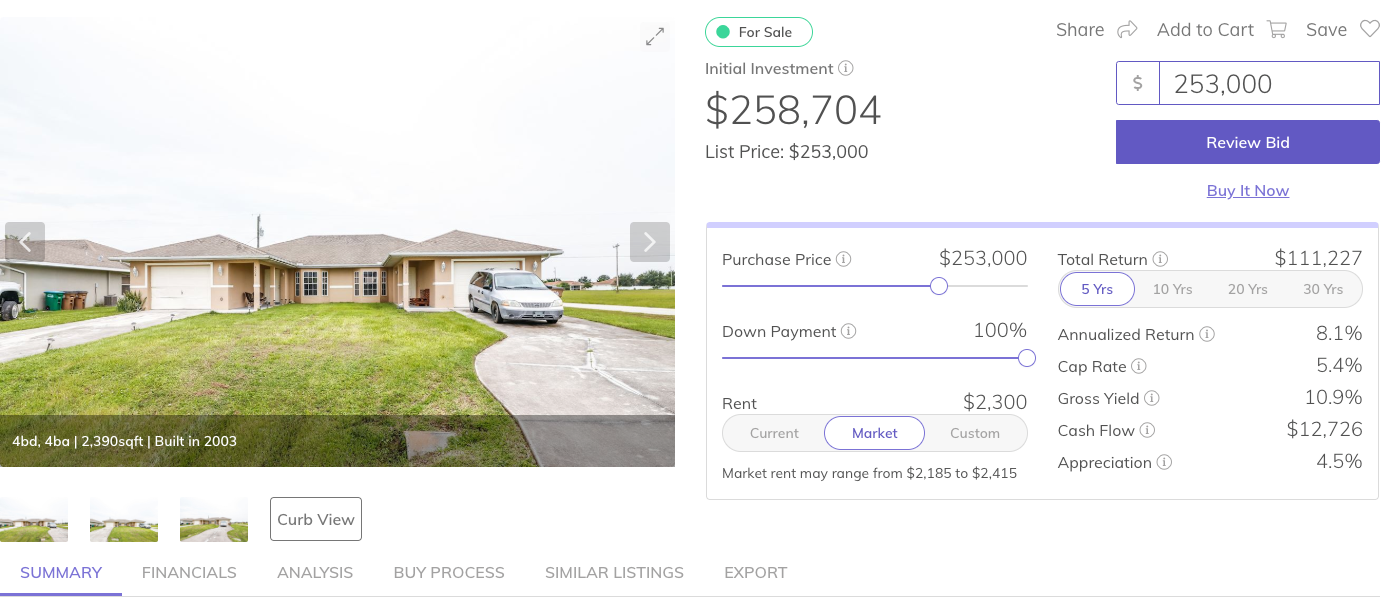 Doing so allows me to see where there could be some opportunity that over investors are missing by just looking at the current rent. Now I know that I might be able to raise the rents when it comes time for the tenant to renew the lease and that will improve my expected returns.
Looking for even more help on how to leverage the Roofstock marketplace? Book some time here to speak with one of our expert advisors. They can walk you through how to best use the marketplace and point you in the right direction to help you reach your investment goals.