To show just how far a little time and money can go, a homeowner gives her master bath its first new look in more than 20 years.
BEFORE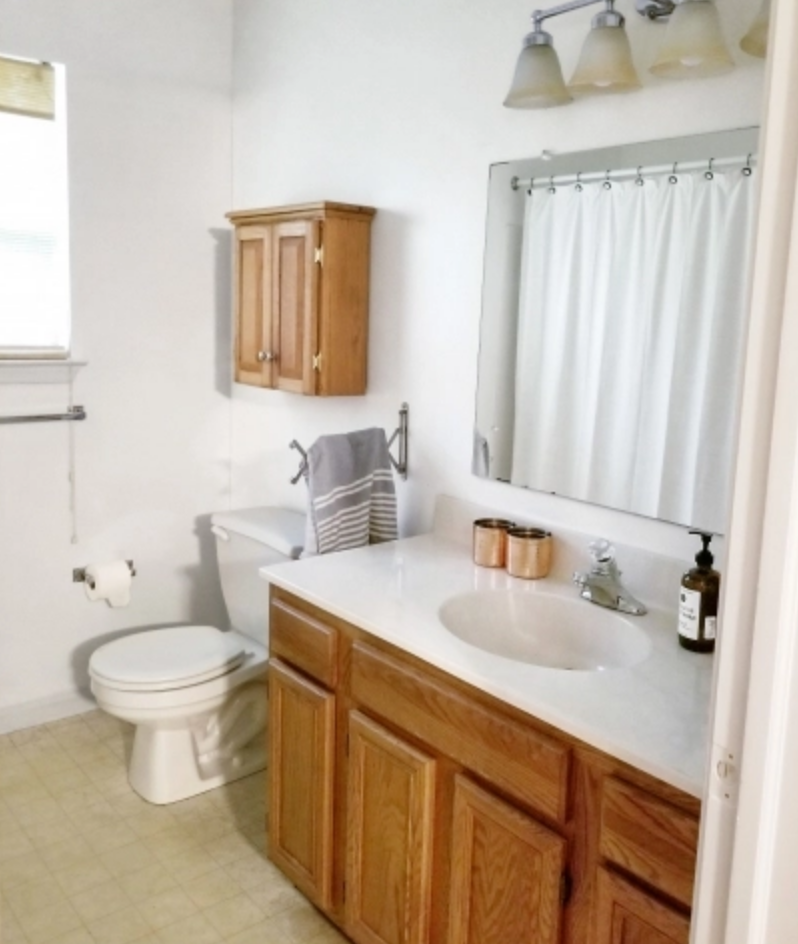 No time and no money are often cited as reasons for putting off a remodel. Just ask Cynthia Harper, who lived in her Colonial-style home in Philadelphia with her family for five years before reaching the end of her rope with the depressing master bath. So she came up with a plan to make over the space in just two days with just $200.
Shown: The basic builder-grade bath had not been touched since the house was built in 1996. The homeowners were waiting to make changes until they had the budget for a full gut reno.
AFTER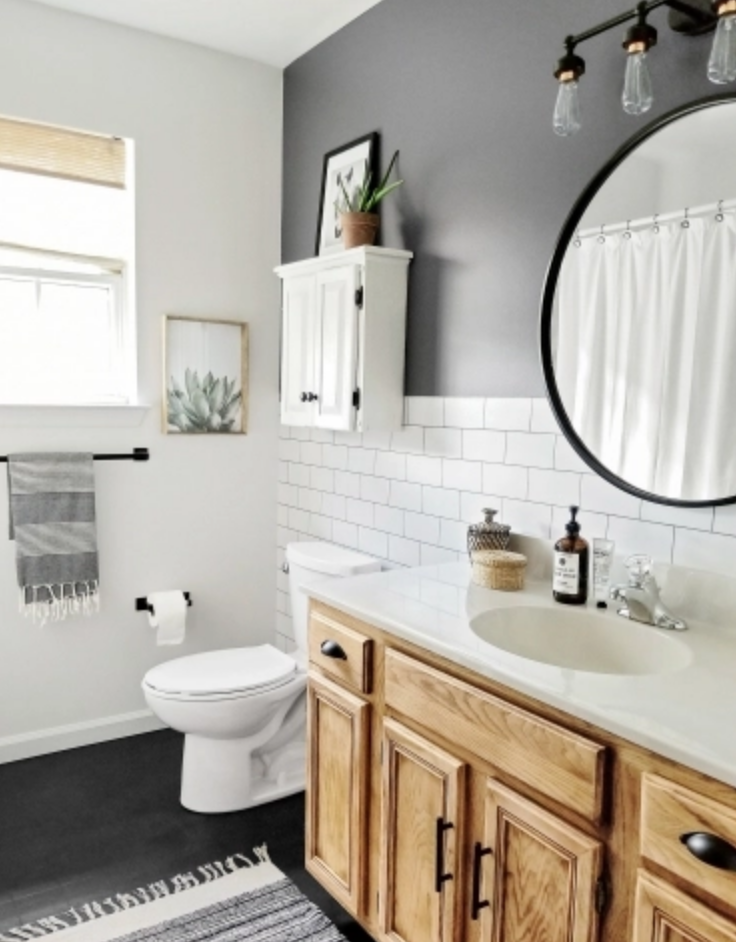 Photos: Courtesy of cynthiaharperliving.com
First, she went to work repainting the walls, as well as the dingy vinyl flooring that was otherwise in good shape. To give the builder-grade oak vanity a more rustic look, she sanded off the shiny finish and protected the raw wood with a matte clear sealant. Since tiling was not in the budget, a roll of subway-tile-print wallpaper went up to achieve a similar look. A can of matte black spray paint unified the existing hardware and light fixture with some new knobs, pulls, and a mirror. Cynthia shopped her house for the rest of the decor, and clocked in on time and under budget. Not only is she happy with the results, she is thrilled to have pulled off exactly what she set out to accomplish. "I want to show you can do budget-friendly projects without consuming every evening and every weekend of your life," says Cynthia, who blogs at cynthiaharperliving.com. Mission accomplished!
See the project at Cynthia Harper Living.
Shown: A series of small fixes made a big enough impact that the couple can happily keep saving up for a large-scale renovation a few years down the road.
$5.98 per Edison bulb
$6.47 per door pull
The Project Tally
Freshened up the walls and storage cabinet with leftover white and charcoal paint $0
Hung subway-tile-patterned paper on the sink wall $35
Cleaned the vinyl floor, prepped it with spare primer, and rolled on a quart of black porch paint $13
Sanded the oak vanity and sealed it with a matte clear coat $18
Installed new hardware on the cabinets $28
Spray-painted the existing towel bar, toilet tissue holder, light fixture, and cabinet hinges $6
Removed the light fixture's glass shades, covered the outside of the sockets with copper tape already on hand, and swapped in Edison bulbs $24
Replaced the toilet with one saved from a previous bath remodel $0
Added a new mirror and accessories from other rooms $65
Total $189
Article By Katelin Hill of This Old House magazine