18 Percent of Markets Reached New Highs in Median Home Prices in 2014;Distressed Discount Falling and Sales Skewing Higher End
IRVINE, Calif. – April 3, 2015 — RealtyTrac® (www.realtytrac.com), the nation's leading source for comprehensive housing data, today released a February 2015 Home Price Appreciation Analysis which found that annual home price appreciation in February slowed compared to annual home price appreciation a year ago in 60 of the 92 metros analyzed with a population of 500,000 or more and sufficient home price data.
The report also found that the U.S. median home price in Februaryincreased 14 percent from a year ago but was flat from the previous month to $183,000.The median sales price of distressed homes — those in the foreclosure process or bank-owned — increased 13 percent from a year ago to $127,000, 33 percent below the median sales price of non-distressed properties, $190,000.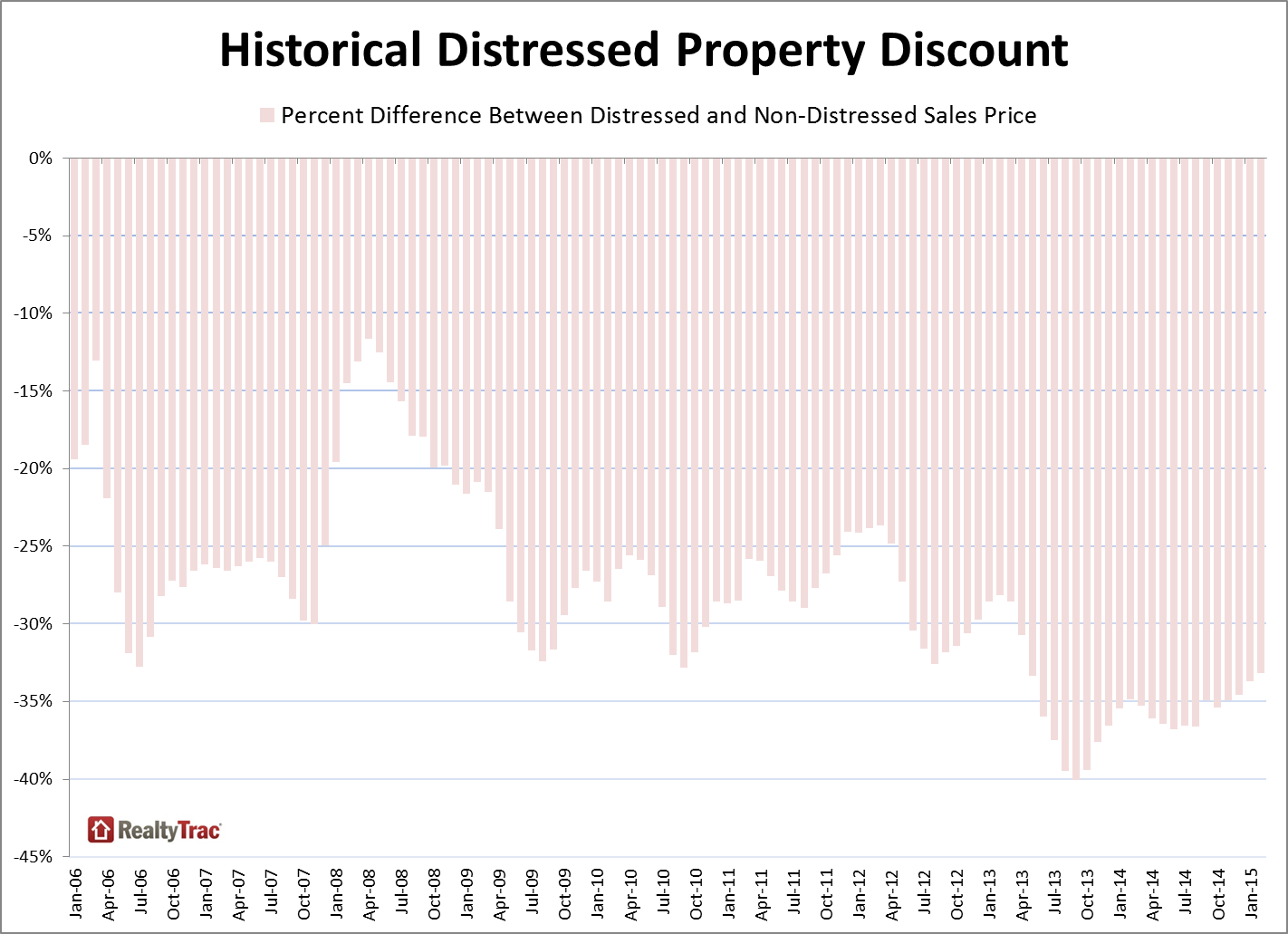 "While still significant at 33 percent, the average discount buyers are realizing on distressed homes has been shrinking over the past 18 months after hitting a high of 40 percent in September 2013," said Daren Blomquist, vice president at RealtyTrac. "Inventory of distressed properties is drying up in many markets even while demand for those properties — which typically fall into the target market for both investors and first-time homebuyers — is ramping up. That is in turn resulting in nationwide home prices skewing higher as a smaller share of homes sell at the lower end of the market."
"2014 was a historical year for the luxury market in the Lake Tahoe area," said Sue Lowe, Senior Vice President/Corporate Broker for Chase International, covering the Lake Tahoe and Reno, Nev. Markets. "We expect to see big things happen as the summer buying season begins in 2015."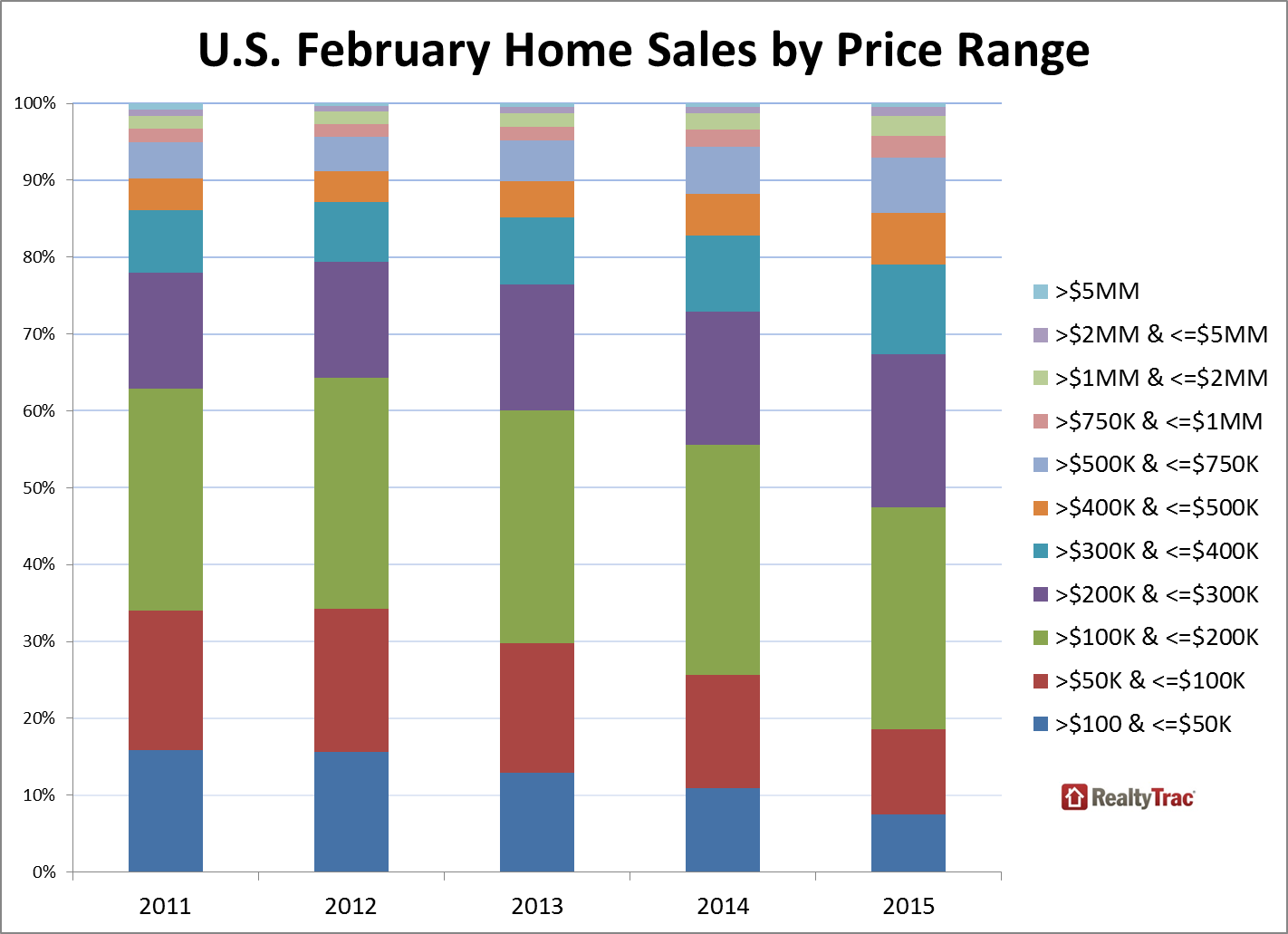 Home price appreciation slows in 65 percent of metros
Among the nation's largest metro areas, those with slowing home price appreciation included New York, New York (annual appreciation of 3 percent compared to 6 percent last year), Los Angeles, California (annual appreciation of 9 percent compared to 20 percent last year), Chicago, Illinois (annual appreciation of 6 percent compared to 16 percent last year), Washington DC (annual appreciation of 6 percent compared to 7 percent last year), and Miami, Florida (annual appreciation of 10 percent compared to 20 percent last year).
"Last year, Seattle home prices saw double digit increases, but as we predicted earlier this year, that pace has started to slow," said OB Jacobi, president of Windermere Real Estate, covering the Seattle market where annual price appreciation was 6 percent compared to 13 percent a year ago. "We actually see this as a good thing because if home prices were to continue appreciating in the double digits for too long, we could run into the same boom/bust market of years past."

"After the last flurry of distressed buying in the first half of 2013 we have seen a gradual move to a more normal real estate market – with real buyers and real sellers," said Mike Pappas, CEO and president of the Keyes Company, covering the South Florida market, where annual home price appreciation was 10 percent compared to 20 percent last year. "This translates to a healthy move toward historic single digit appreciation levels."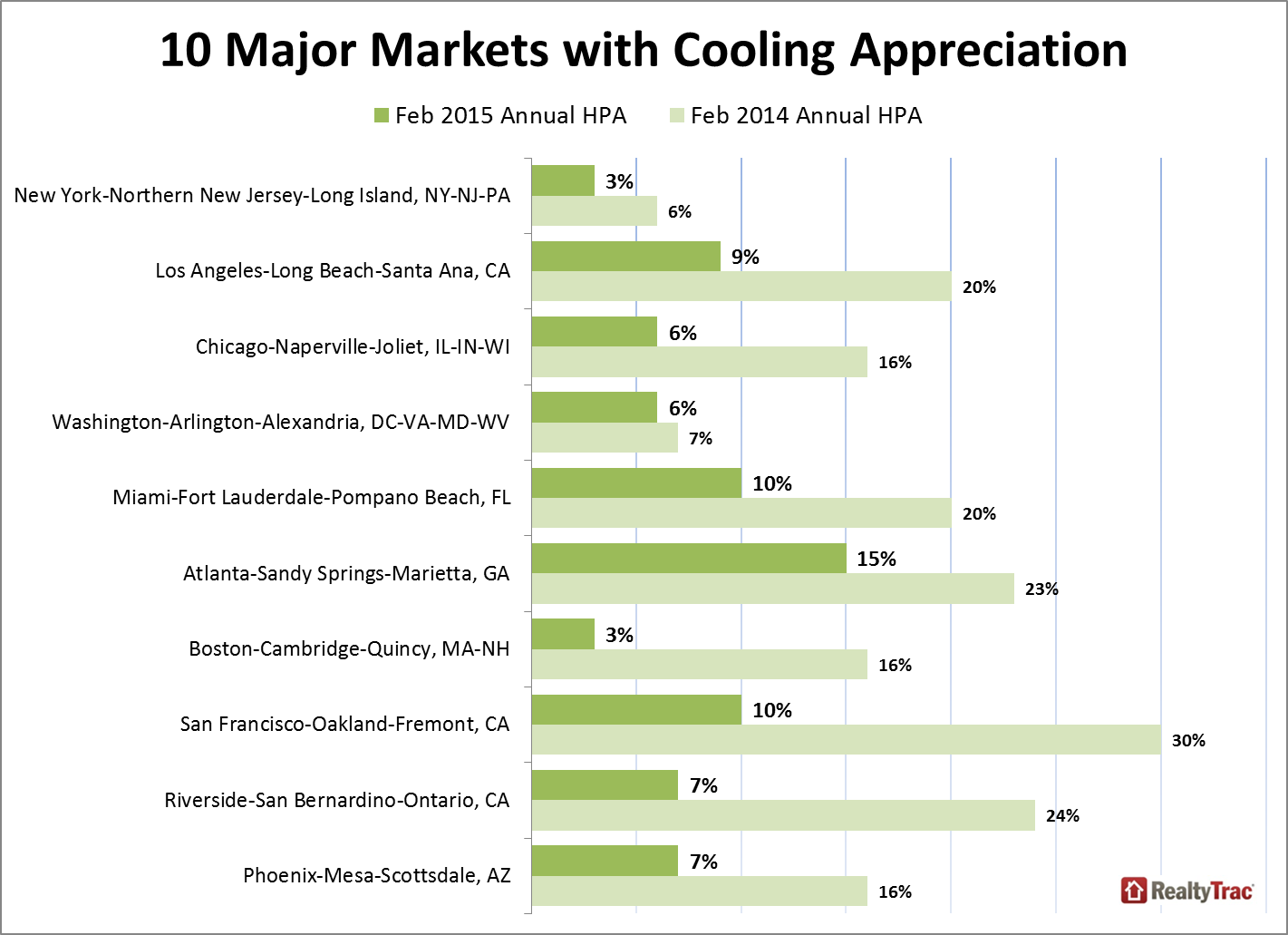 17 metro areas reached new peaks in median home prices in 2014
The recovery has helped 17 metro areas (18 percent of total 92) reach new peaks in median home prices in 2014 including Denver, Colorado ($265,000), San Jose, California ($714,750), Chattanooga, Tennessee ($130,000), Madison, Wisconsin ($215,900) and Nashville, Tennessee ($175,000).
Markets that have made the most gains since hitting their housing bottoms
Home price appreciation in February helped many markets that had hit their housing price bottom increase to new heights including Detroit, Michigan (up 154 percent), Grand Rapids, Michigan (up 118 percent), San Francisco, California (up 115 percent), Cape Coral, Florida (up 102 percent), San Jose, California (up 90 percent), Modesto, California (up 72 percent) and Los Angeles, California (up 70 percent).
"Home price appreciation has slowed considerably but that's actually a welcome relief in a market where real sustainable growth is based on steady consistent advancements in market prices versus large pendulum swings created by bubbles and recessions," said Mark Hughes, chief operating officer at First Team Real Estate, covering the Southern California market where annual appreciation was 9 percent this year compared to 20 percent last year. "Healthy real estate growth is historically a tick or two above inflation, 9 percent and 10 percent growth is unsustainable and cause the market swings that derail market confidence that drives steady solid growth. Real estate value like life is a marathon not a sprint."
Markets with accelerating home price appreciation
Home price appreciation accelerated in 32 of the 92 (35 percent) metro areas nationwide with a population of half a million or more and with sufficient home price data.
Markets with the fastest-accelerating appreciation included Houston, Texas (21 percent annual appreciation this year compared to 5 percent annual appreciation last year), Austin, Texas (16 percent annual appreciation this year compared to 9 percent last year), Augusta, Georgia (15 percent annual appreciation this year compared to 6 percent last year) and Greensboro, North Carolina (14 percent annual appreciation compared to no appreciation last year).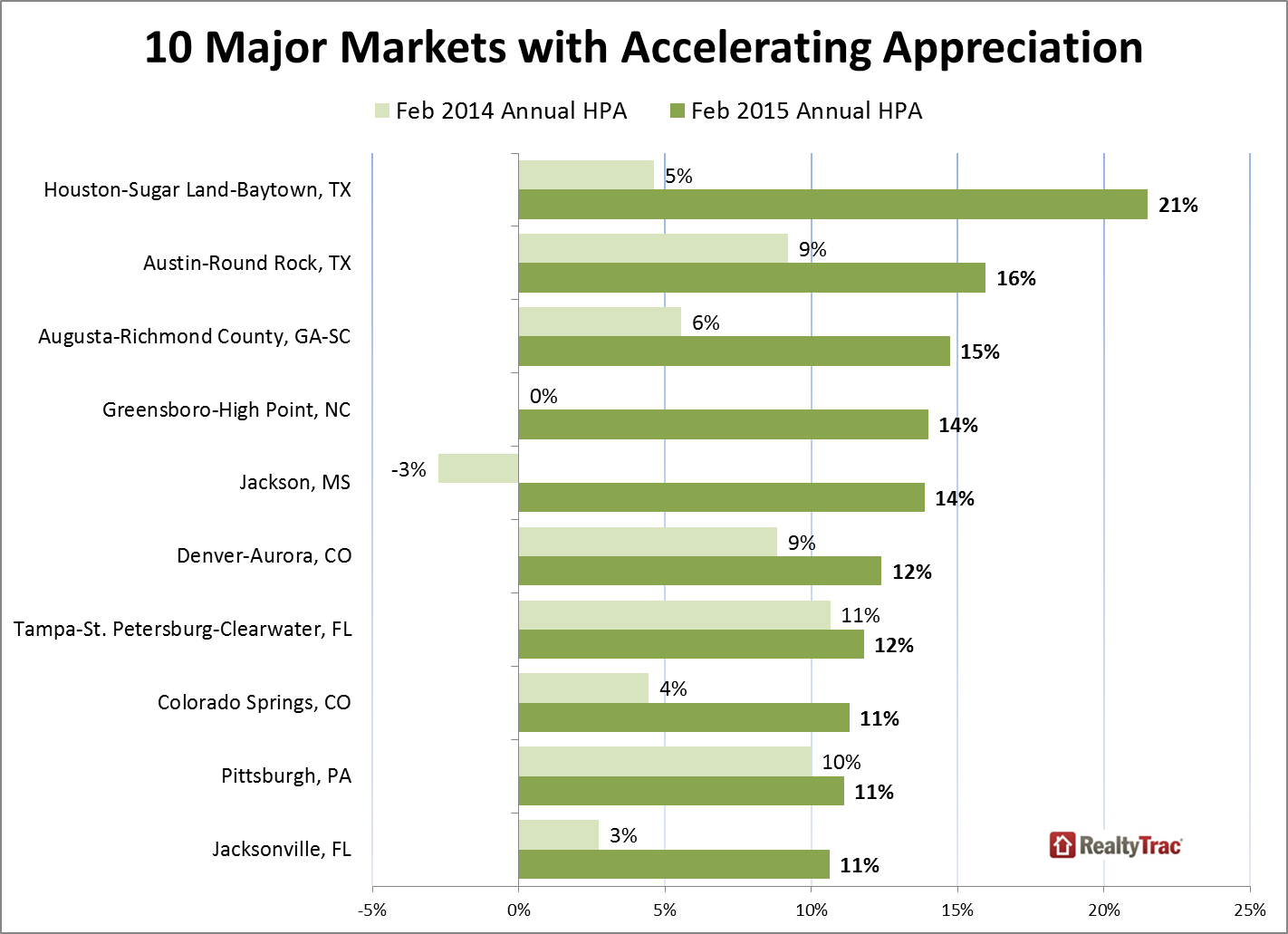 Report methodology
The RealtyTrac Home Price Appreciation Report provides median prices for sales of residential properties nationwide, by state and metropolitan statistical areas with a population of 500,000 or more. Data is available at for all metro areas upon request. The data is derived from recorded sales deeds in disclosure states where the home price is included on the recorded sales deed and from median list prices in non-disclosure states where the home price is not required to be included on the recorded deed.
Report License
This RealtyTrac report is the result of a proprietary evaluation of information compiled by RealtyTrac; the report and any of the information in whole or in part can only be quoted, copied, published, re-published, distributed and/or re-distributed or used in any manner if the user specifically references RealtyTrac as the source for said report and/or any of the information set forth within the report.
Data Licensing and Custom Report Order
Investors, businesses and government institutions can contact RealtyTrac to license bulk foreclosure and neighborhood data or purchase customized reports. For more information please contact our Data Licensing Department at 800.462.5193 or datasales@realtytrac.com.
About RealtyTrac
RealtyTrac is a leading supplier of U.S. real estate data, with nationwide parcel-level records for more than 130 million U.S. parcels that include property characteristics, tax assessor data, sales and mortgage deed records, default, foreclosure, auction, and Automated Valuation Models (AVMs) along with more than 45 key local and neighborhood dynamics for residential properties nationwide via its subsidiary, Homefacts.com. RealtyTrac's housing data is relied on by the Federal Reserve, U.S. Treasury Department, HUD, numerous state housing and banking departments, investment funds as well as millions of real estate professionals and consumers, to help evaluate housing trends and make informed decisions about real estate.