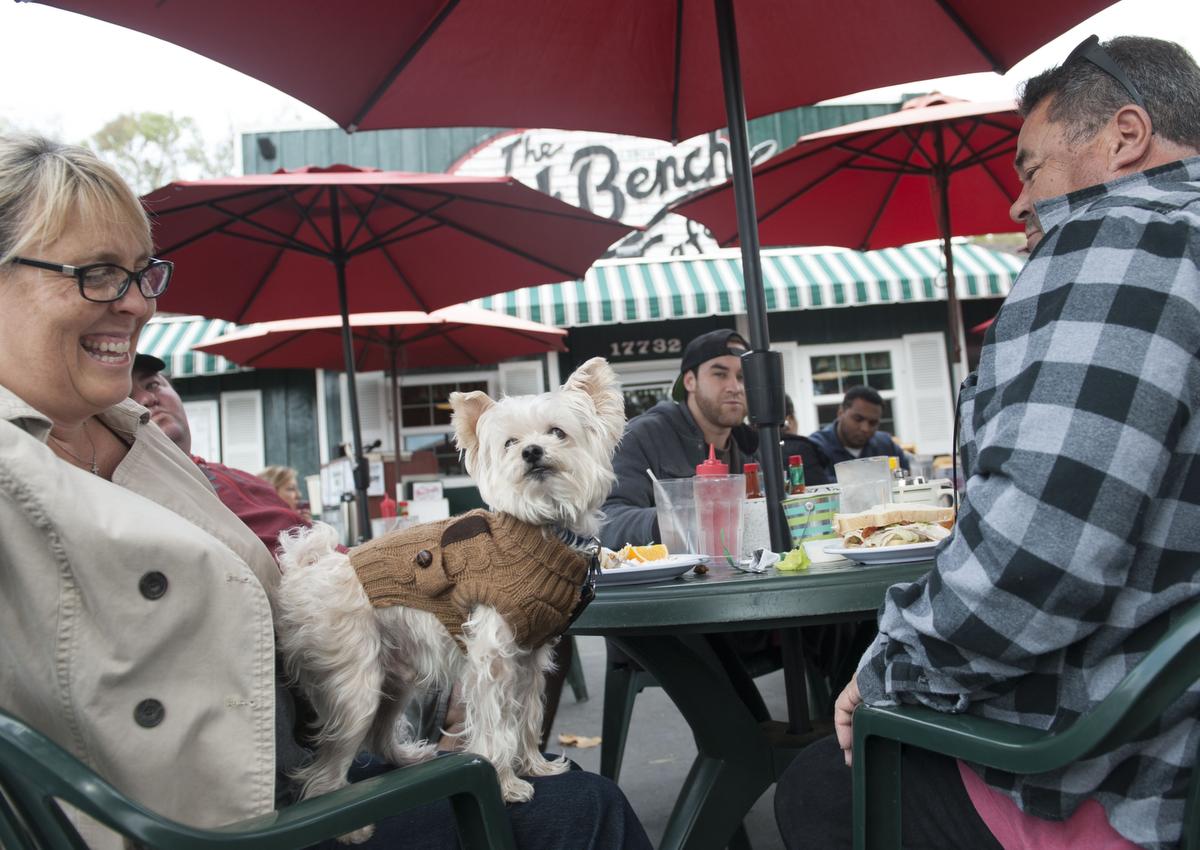 The Park Bench Cafe in Huntington Beach Central Park has been rolling out the welcome mat for dogs and their owners for decades. Here, Liz and Wright Adaza of Redondo Beach breakfast with little Milo. ANA VENEGAS, STAFF PHOTOGRAPHER
That sad look on your dog's face every time you leave the house never stops breaking your heart. But what can you do? You're headed to the movies: No dogs allowed.
But there are plenty of places you can go in Orange County that are pet-friendly so your family need not be separated during your next outing.
Here's a small roundup of places to bring your pup.
THE PARK BENCH CAFE
In Huntington Beach Central Park, The Park Bench Cafe opened in 1988 as an outdoor dining venue.
"On opening day, we only set up six tables outside as we were not sure how receptive the public would be to this novel idea of eating outdoors," owner Mike Bartusick said. "It's funny to say that now when today, outside dining is the new norm."
Not long after opening, diners started bringing their dogs.
"Over time, we became the place where people and pooches could enjoy a meal together," Bartusick says.
Eventually Bartusick's wife, Christie, developed the Canine Cuisine dog menu, which includes tasty treats such as the Rover Easy (two scrambled eggs).
Before or after mealtime, the family can take a leisurely stroll around the park. All well-behaved, leashed dogs are welcome.
Details: 17732 Goldenwest St., Huntington Beach; parkbenchcafe.com
YAPPY HOUR
Add dogs to happy hour, and you can get pure joy for the whole family.
Yappy Hour at The Ritz-Carlton Laguna Niguel hosts close to 900 guests and 500-700 dogs every month, according to Deanne French, the resort's director of public relations. Pups get free dog biscuits and drinks including bacon-, chicken- and beef-flavored water; their humans can purchase beer, wine and barbecue.
Yappy Hour benefits animal-related charities.
Dates include May 19, June 16, July 21, Aug. 18 and Sept. 15. The Yappy Howl-O-Ween Yappy Hour on Oct. 27 will include a doggie costume contest, and Yappy Howl-iday on Dec. 4 will feature pictures with Santa.
Details: 1 Ritz Carlton Drive, Dana Point; ritzcarlton.com
***
Kriser's Natural Pet store also offers Yappy Hour at its locations, typically 5-7 p.m. on the second Wednesday of each month, with food and treats for humans and dogs.
Details: There are several locations in Orange County; krisers.com
RESTAURANT PATIOS
In 2015, it became legal for California restaurants to allow leashed dogs on patios, though it was hardly unheard of before last year. Some O.C. favorites with dog-friendly patios include Lazy Dog Restaurant & Bar locations, Haven Gastropub in Old Towne Orange, and Cafe Beau Soleil at Fashion Island in Newport Beach.
The Lazy Dog's menu for canine pals includes a grilled hamburger patty or grilled chicken breast served with brown rice.
"For those who do have a dog, that is an important part of their family, we provide a place for them to dine with their furry companion, and I think they appreciate that," says Lazy Dog Creative Director Rebecca Simms.
Details: There are several locations in Orange County; lazydogrestaurants .com
Haven Gastropub partnered with JustFoodForDogs in Newport Beach to create a menu available on Haven's patio. The meals are 7-ounce, $4 dishes certified for human consumption, including beef and russet potato, turkey and whole wheat macaroni, lamb and brown rice, chicken and white rice, and fish and sweet potato.
Details: 190 S. Glassell St., Orange; havengastro pub.com
Pascal Gimenez, executive chef and general manager at Cafe Beau Soleil, says the restaurant allows pets on its indoor and outdoor patios. While the restaurant doesn't offer a menu for dogs, workers are happy to add a side such as organic chicken breast or all-natural skirt steak diced in a doggie bowl, he says.
Details: 953 Newport Center Drive, Newport Beach; cafebeausoleil.net
RETAIL CENTERS
If you're at Fashion Island in Newport Beach on a weekend, you'll likely spot more than a few dogs. The center's open, inviting design welcomes both two-legged and four-legged family members.
Details: 401 Newport Center Drive, Fashion Island, Newport Beach; shopfashionisland.com
The Lab and The Camp malls in Costa Mesa are also dog-friendly.
"Our retail shops do generally allow dogs on leashes in their stores, and quite a few have little mascots that hang out regularly," says Christina Wachspress, the centers' event manager.
Details: The Lab, 2930 Bristol St., Costa Mesa, thelab.com; The Camp, 2937 Bristol St., Costa Mesa, thecampsite.com
PARKS
We know we can take our pups to dog parks, but what are the rules at other parks?
While wilderness parks are not dog-friendly, several OC Parks facilities such as Peters Canyon Regional Park in Orange and Talbert Nature Preserve in Costa Mesa do allow leashed dogs.
Details: For a list of dog-friendly parks, visit ocdog friendly.com