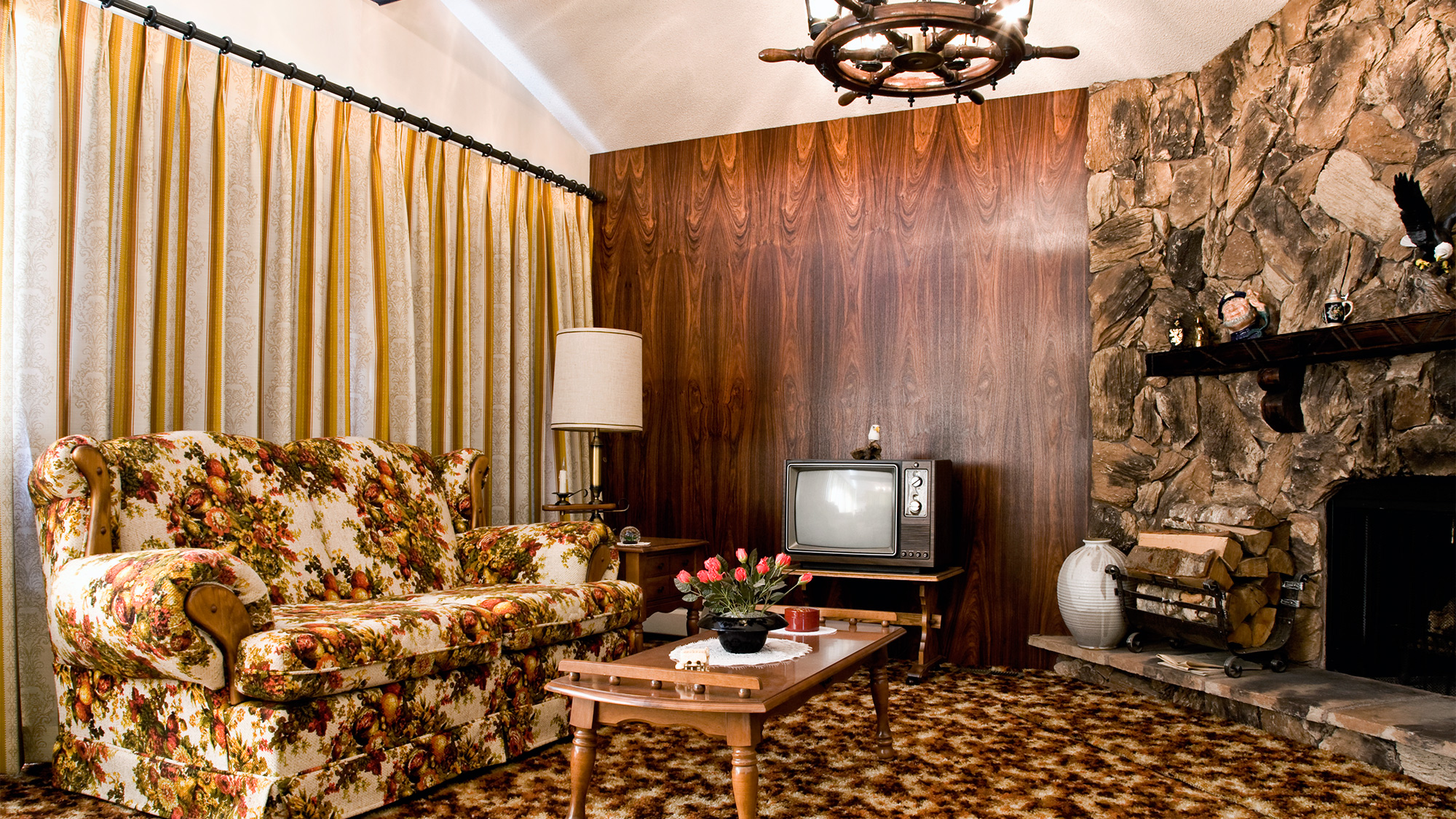 Steven Errico/Getty Images
Despite its many flaws, you love your home—outdated wooden baseboards, disco-era living room set, purple exteriors, and all. But does anyone else love it?
If you're considering putting your place on the market soon, it's high time to take a step back and take a good, hard look at your decor. Dated touches might seem charming to you (wall-to-wall shag will totally be back in style soon, right?). Or maybe you don't want to go to the trouble and expense of overhauling your decor if the new owners are going to change it anyway.
We get it, but we're here to tell you: Stop making excuses and be a savvy seller! Your outdated decor will immediately turn off a potential buyer, lowering your home value and making the selling process that much more difficult.
And, even if you don't plan on selling, you might be surprised what a fresh perspective does to your space (and your soul). Ditching the old-school trends for something updated and modern can make a creaky home feel new again.
Here's where you're going wrong—and how to fix it.
1. White appliances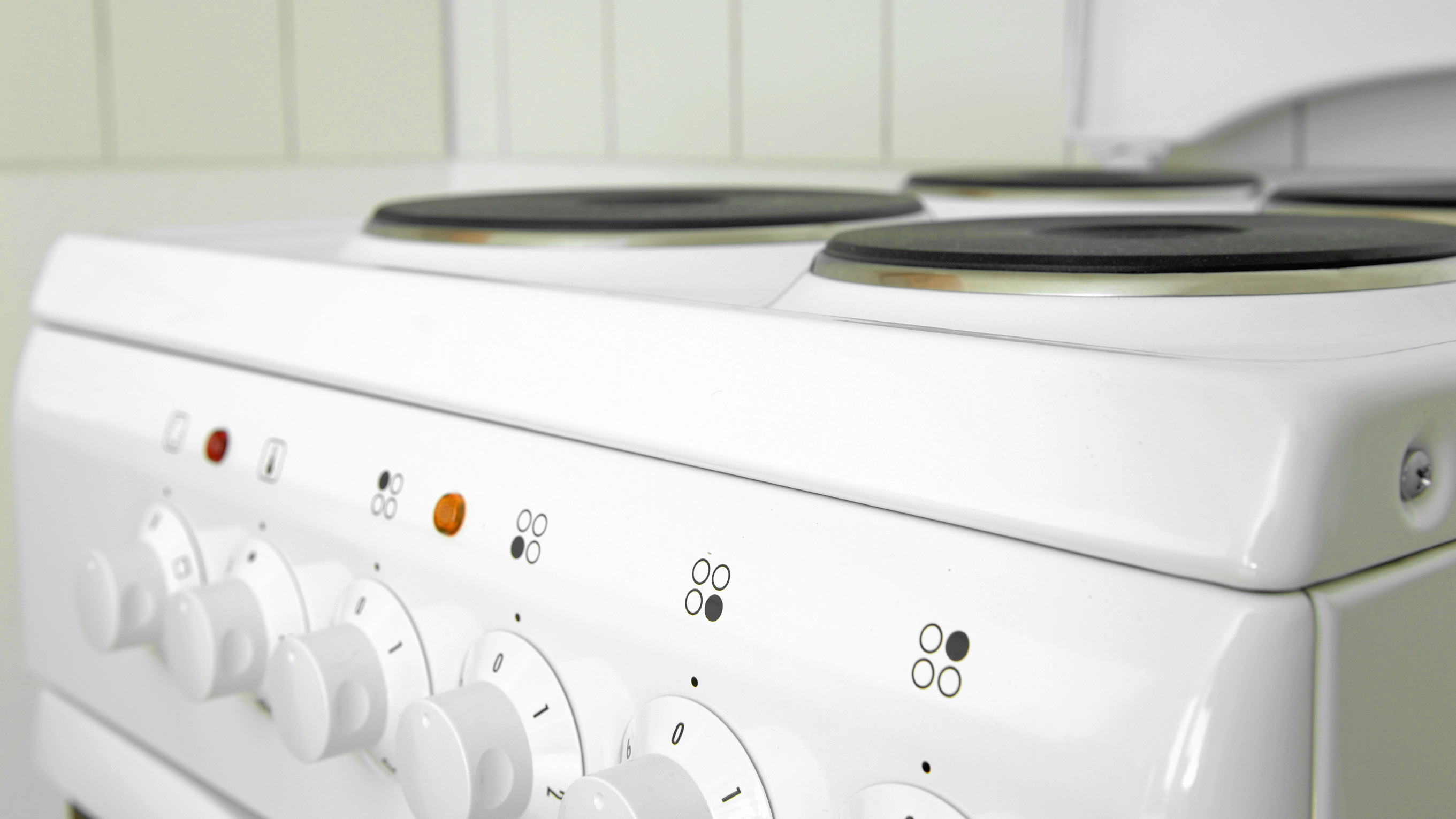 thelinke/iStock
You probably know stainless steel is all the rage for kitchen appliances, but if your stove is still white, now's the time to update. Not only are white appliances harder to keep spotless, but you're risking turning off buyers.
"White appliances make a kitchen feel very dated, and is a deal-breaker for many buyers," says Will Johnson, a Realtor® and founder of the Sell and Stage team in Hendersonville, TN. "Upgrading to stainless steel or black appliances can make a huge difference."
2. Glass mosaic backsplash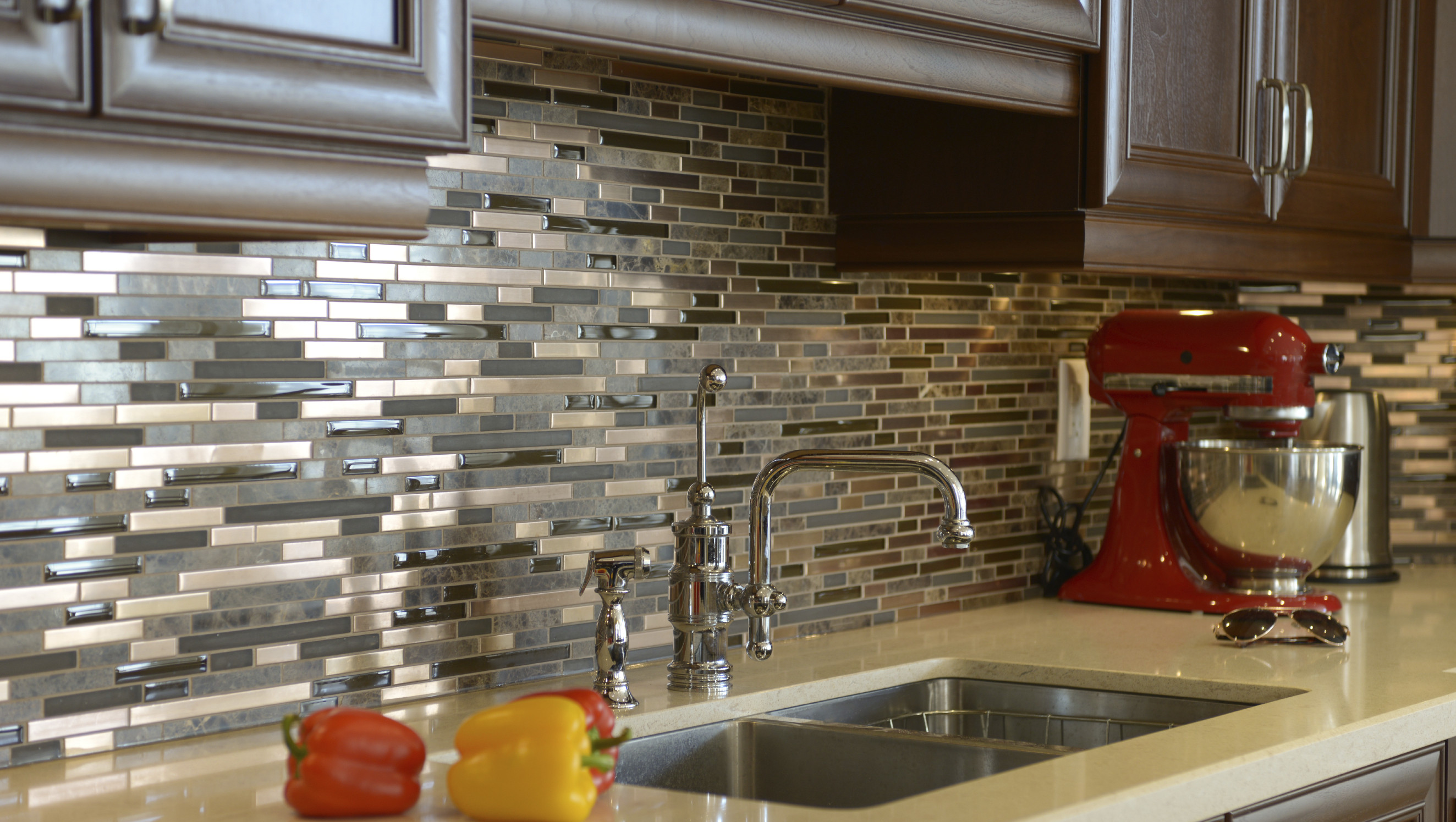 FOTOGRAFIA INC./iStock
You might have looked better a decade ago, but the same might very well be said about your house. The biggest tell of a 10-year-old home: That glass mosaic backsplash—probably blue-tinged—that looked oh-so-sleek at the time but now screams 2006.
"Change out the kitchen backsplash to a more classic tile," says Sacha Nizami, a Toronto interior designer.
Nizami recommends a large-format marble tile, which is "always pleasing," or plain white subway tile, "a design trend which never seems to go out of style."
3. Busy wallpaper and bold paint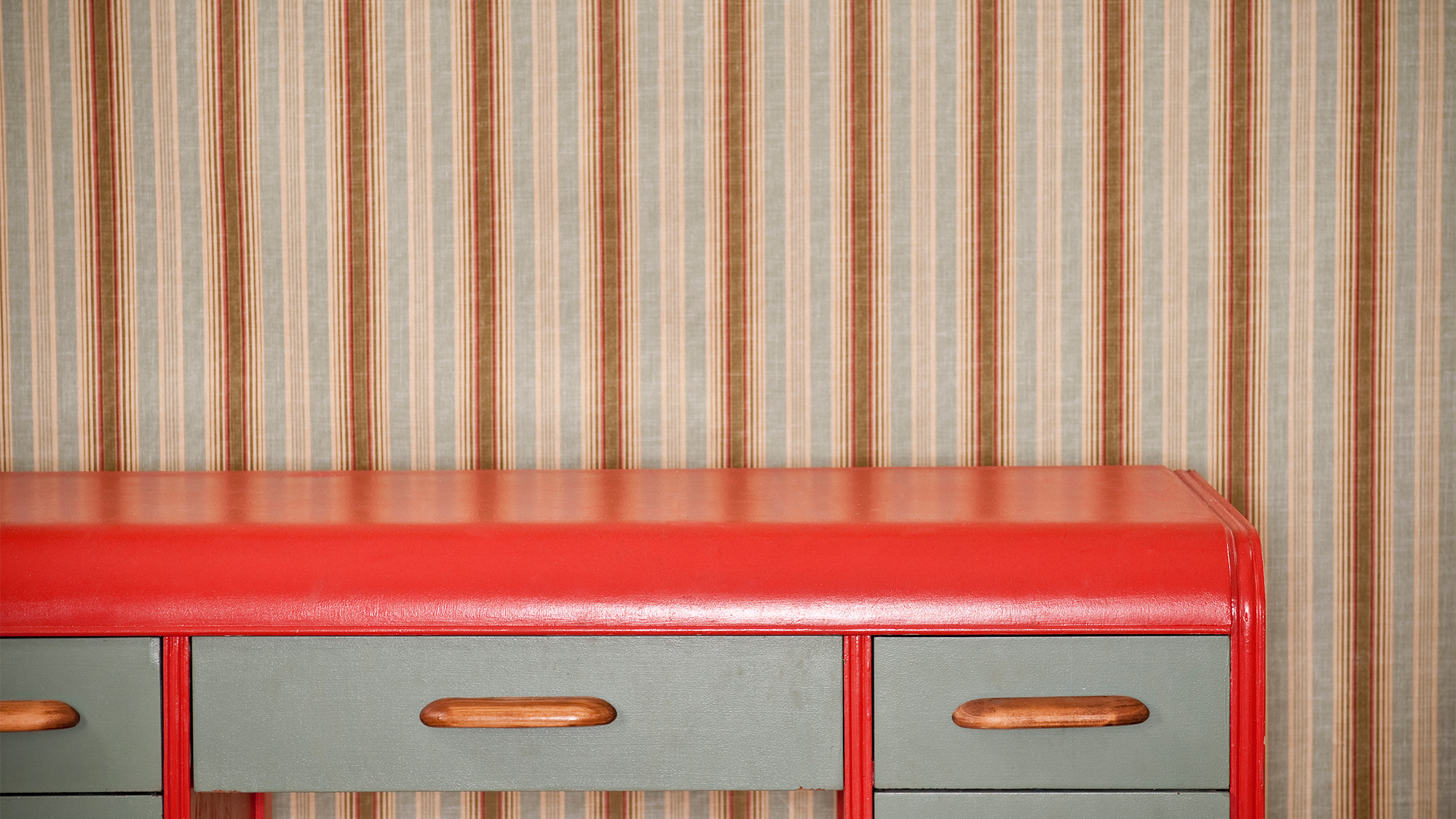 Spiderstock/Getty Images

Buyers care about what's on your walls. It's difficult to envision yourself living in a room when chintzy wallpaper and vivid walls distract you, making even the biggest spaces feel small and cramped.
"Some of the biggest turnoffs for buyers are walls covered in really busy or outdated wallpaper or bold paint colors," says Megan Morris, a home stager and CEO of MHM Professional Staging in Orlando, FL. "They have to factor in removing wallpaper, which is a very laborious process, or repainting walls before they can even move in. These are huge costs that can be very overwhelming to think about."
Swapping your outdated walls for neutral paint makes the home "sell quicker and possibly for more money than you expected," Morris says.
4. Dated, boring fixtures and hardware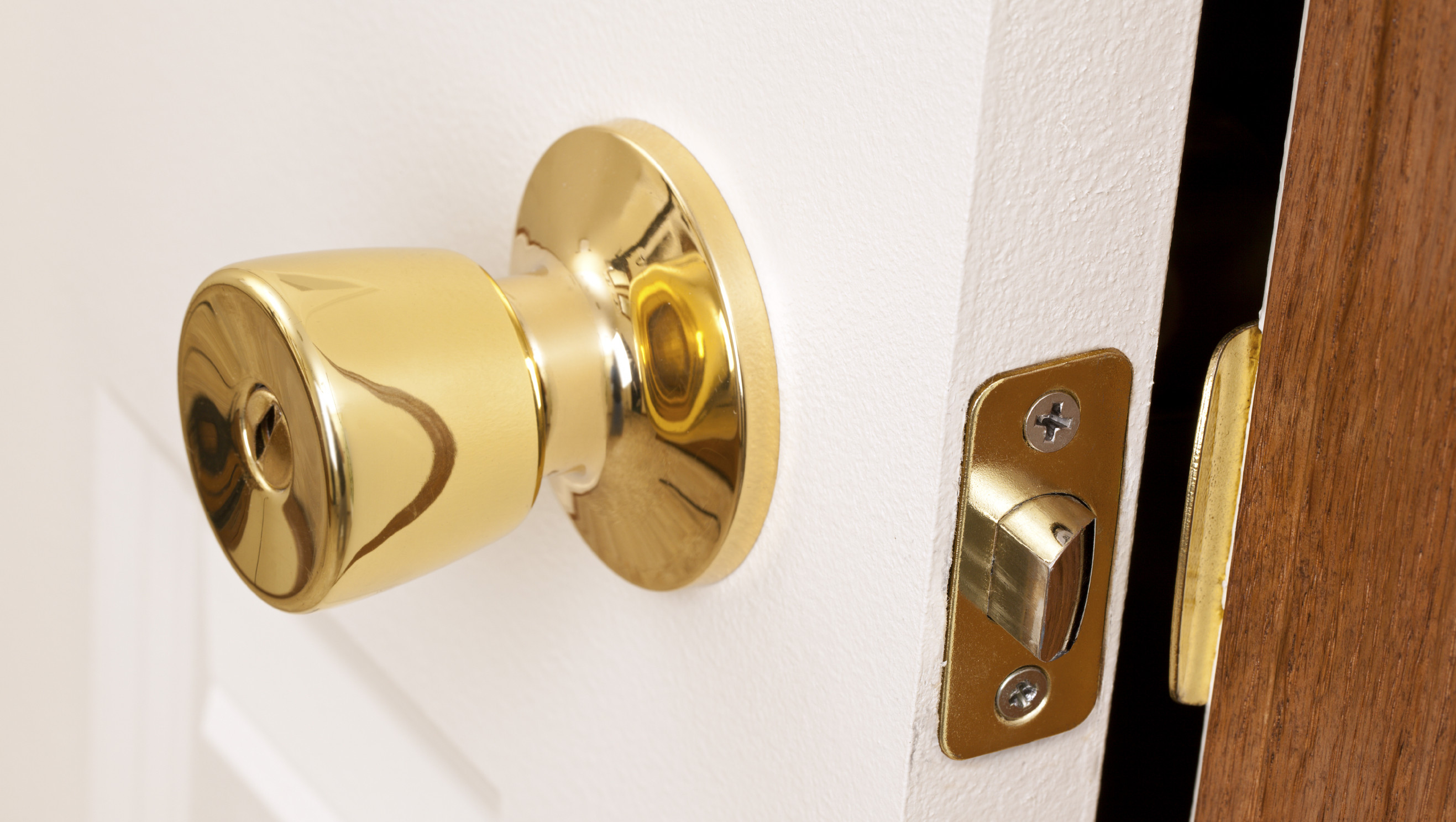 DonNichols/iStock
2015 was the year of mixed metals, such as silver and bronze—but somehow, gold missed the memo that it wasn't invited to the party. If you're still sporting gold appliances and fixtures—and your surname isn't Trump—consider a makeover before putting your home on the market.
"Gold can give a home an outdated, '80s feel," Johnson says. He suggests replacing it with a modern material, like brushed nickel.
While you're at it, give your other hardware a once-over—are your doorknobs a boring chrome? Or your cabinet handles a loud, dated brass?
"Swap it all out for something with contemporary appeal," says Emily Finch, an interior designer based in the San Francisco Bay Area.
Even exchanging beige outlet plates for white ones can make a huge difference.
"This is a detail we often overlook when it's our own home and we see it everyday, but can go a long way in showcasing the home as fresh and move-in ready," she says.
5. Tiled countertops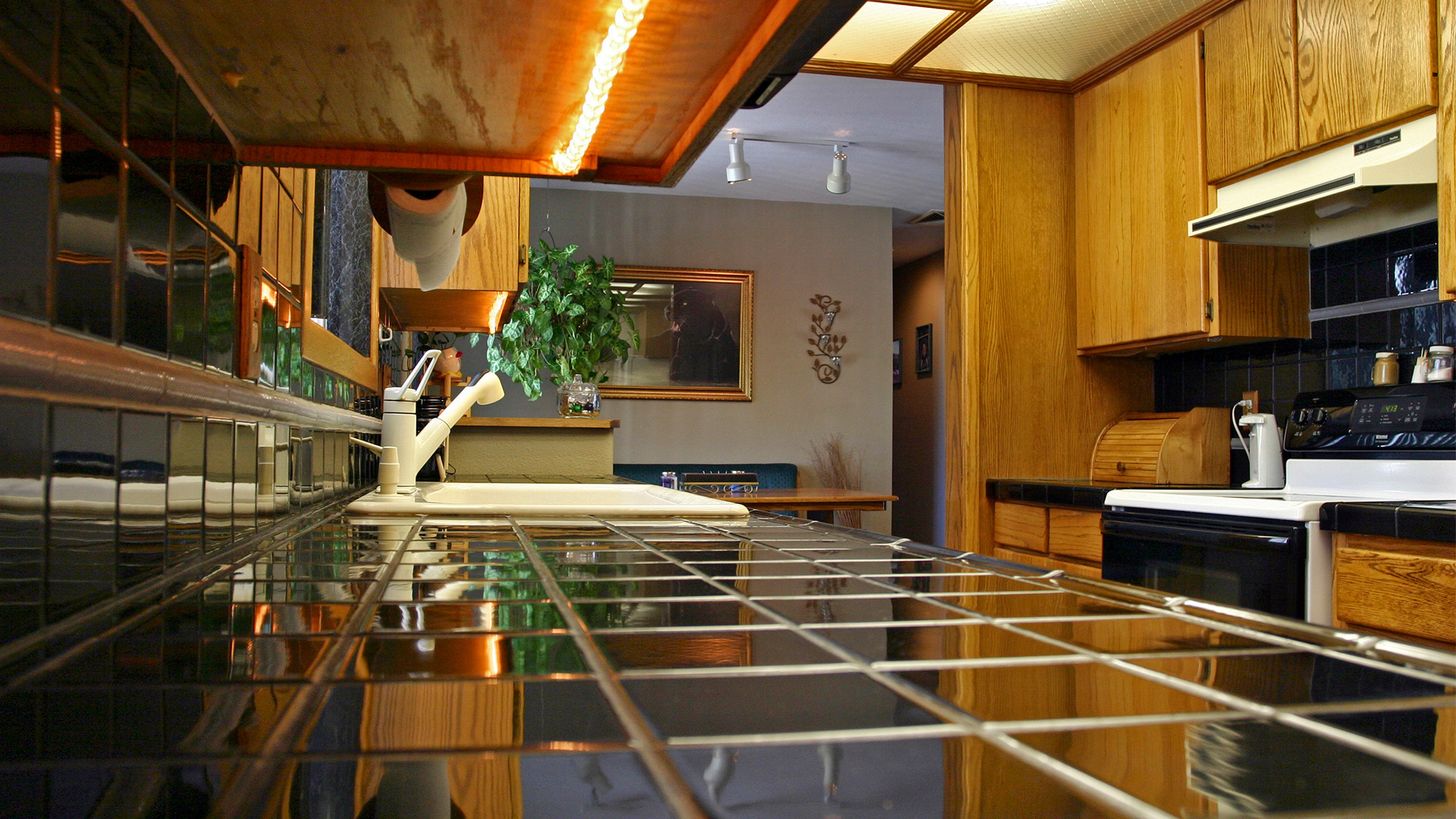 Flutter_97321/iStock
You might not give much thought to your kitchen and bathroom countertops, but potential buyers certainly will. Consider ditching your old-school tiled countertops before a sale.
"They're dated, it's hard to keep the grout clean, and what do you do when a tile chips or breaks?" says Beverly Hills Realtor Kary Bartmasser. "The more work a buyer has to do, the more scared they get."
You don't have to opt for full-on granite—materials such as quartz and silestone are attractive and unlikely to go out of style in the next 10 years.
6. Popcorn ceilings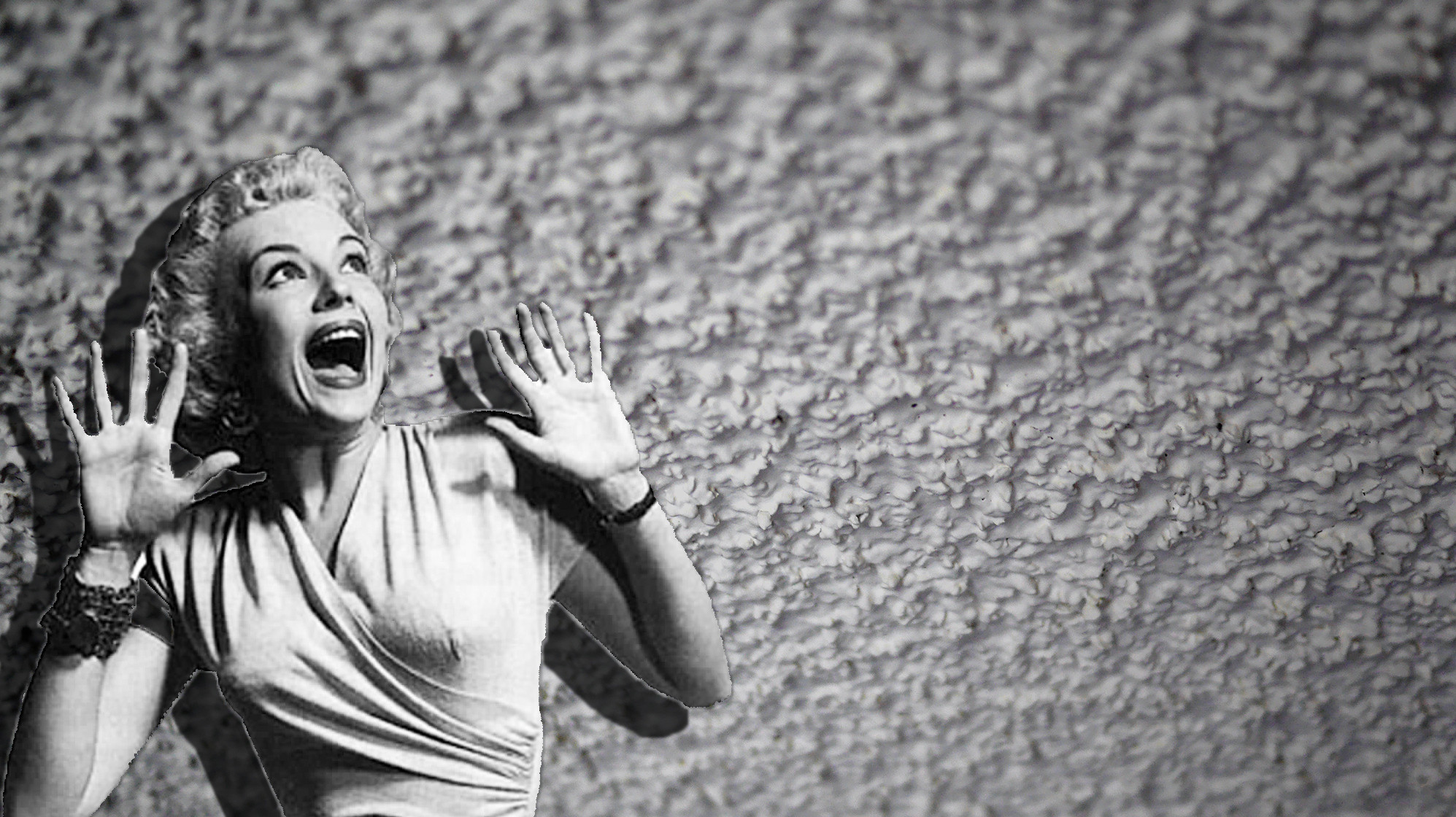 Matt Gross It Came From Outer Space: Universal
Come on. You know better. You should have scraped off that terrible popcorn ceiling years ago, but you've procrastinated, and procrastinated, and… well, just do it now. Do we really have to explain why?
"These significantly date a home and look like a giant, messy project to potential buyers," Finch says.
Considering how simple they are to remove, there's no reason to keep putting this off—just hire an affordable contractor, and don't forget to check for asbestos.
7. Carpeted bathrooms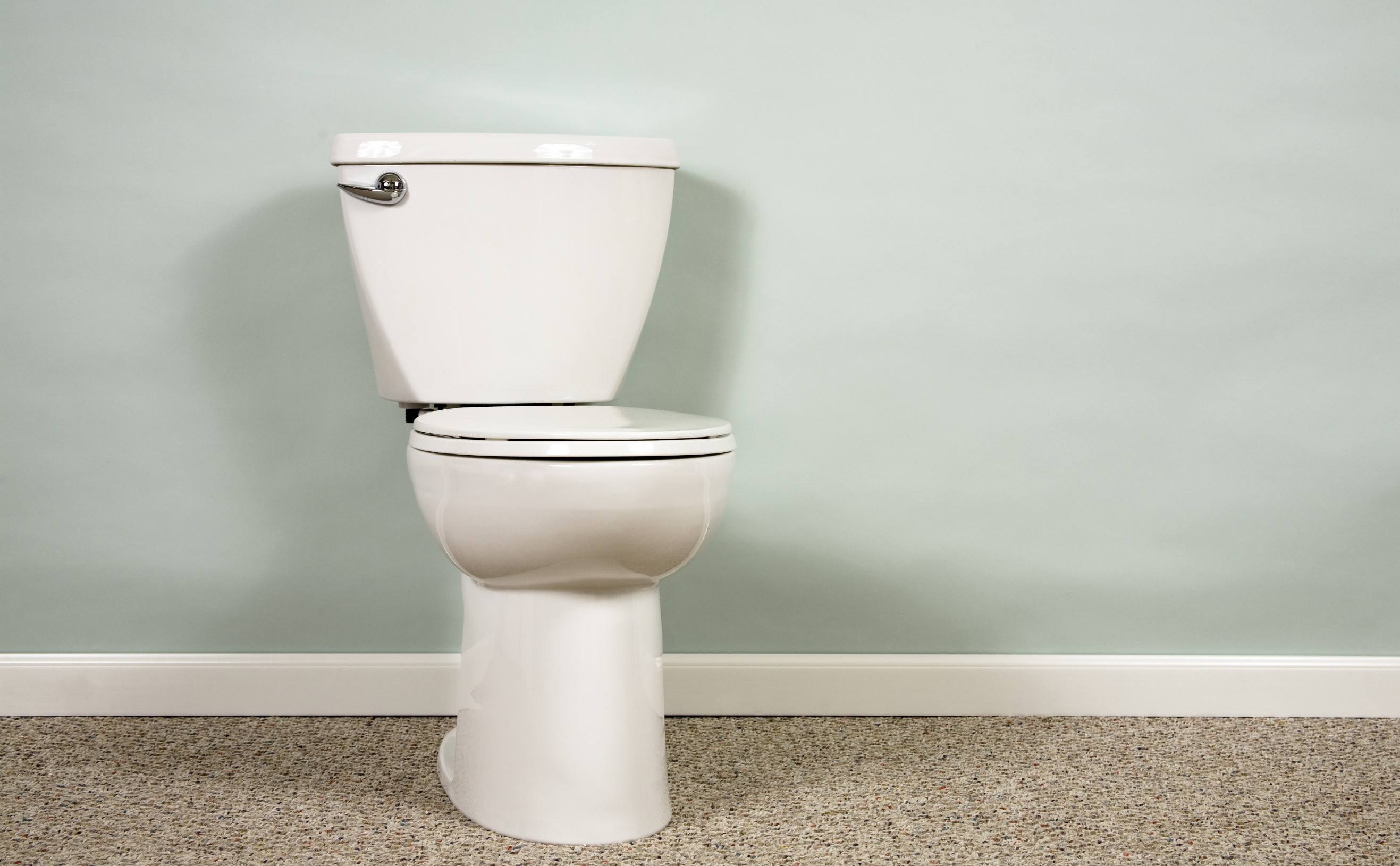 Pamela Moore/iStock
We're not going to sugarcoat this one: It's not the '90s anymore—rip out your master-bathroom carpeting already.
"The 1990s brought us so many fine trends, and carpet in bathroom was one of them," says Justin M. Riordan, the founder of Spade and Archer Design Agency in Portland, OR.
Yes, it's unpleasant to tread across the cold, tiled floor—but that's what a bathmat is for.
"You know what else is unpleasant?" Riordan asks."Mold in your carpet pad." Seriously unpleasant.
8. Wood paneling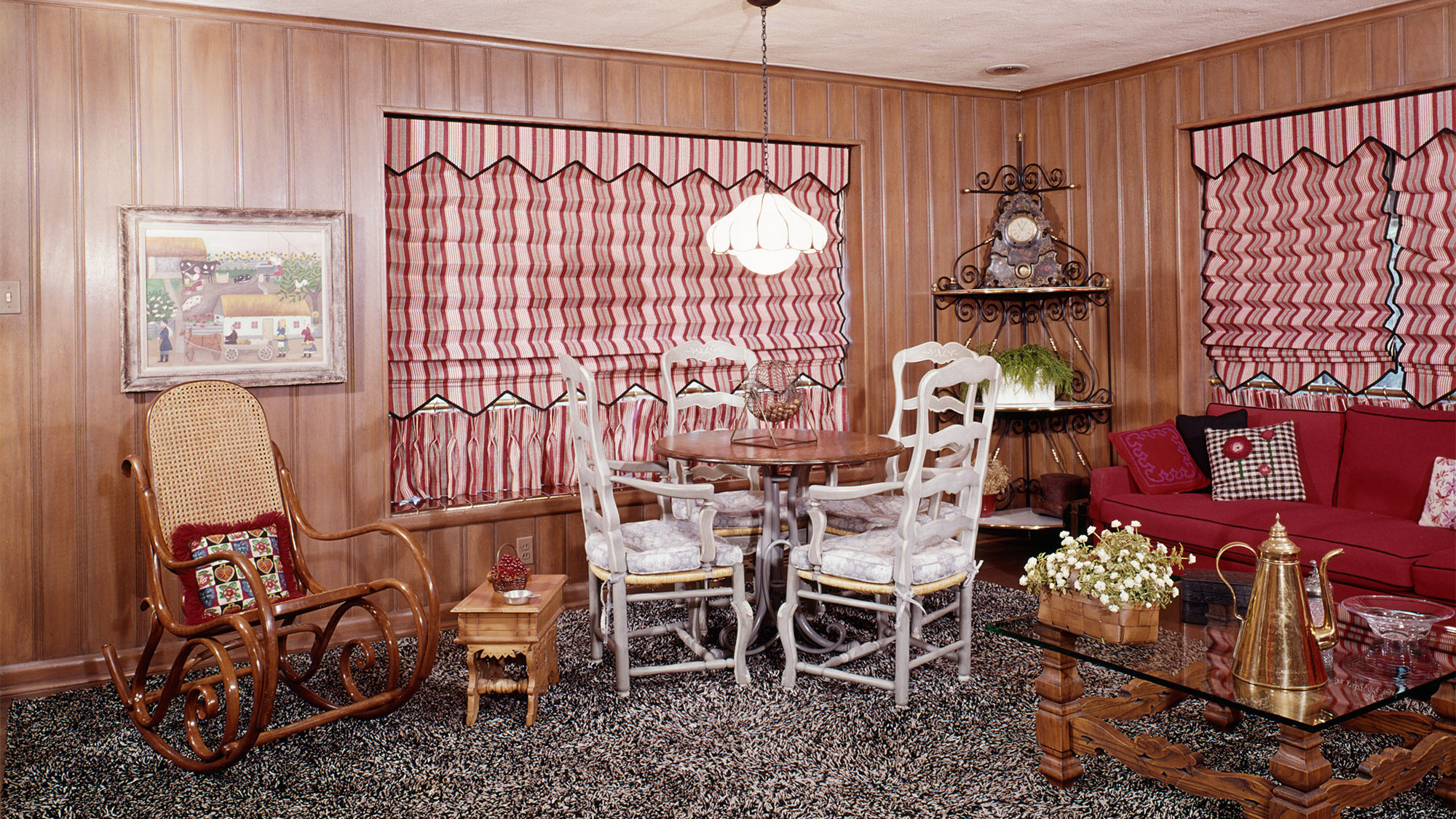 H. Armstrong Roberts/ClassicStock/Getty Images

Let's take a step back, first: If you have a stunning Arts and Crafts home with gorgeous wooden wainscoting, that is not what we're talking about here. Leave it alone—and treasure it.
But if your basement screams "That '70s Show," do something about it before listing.
"Wood paneling instantly dates a home," Johnson says."If you can't afford to rip it out and replace it, paint it a neutral color to make it feel more modern and up-to-date."
It's amazing what white paint can do to make a dark, dreary room feel like somewhere you actually want to live.
9. Linoleum floors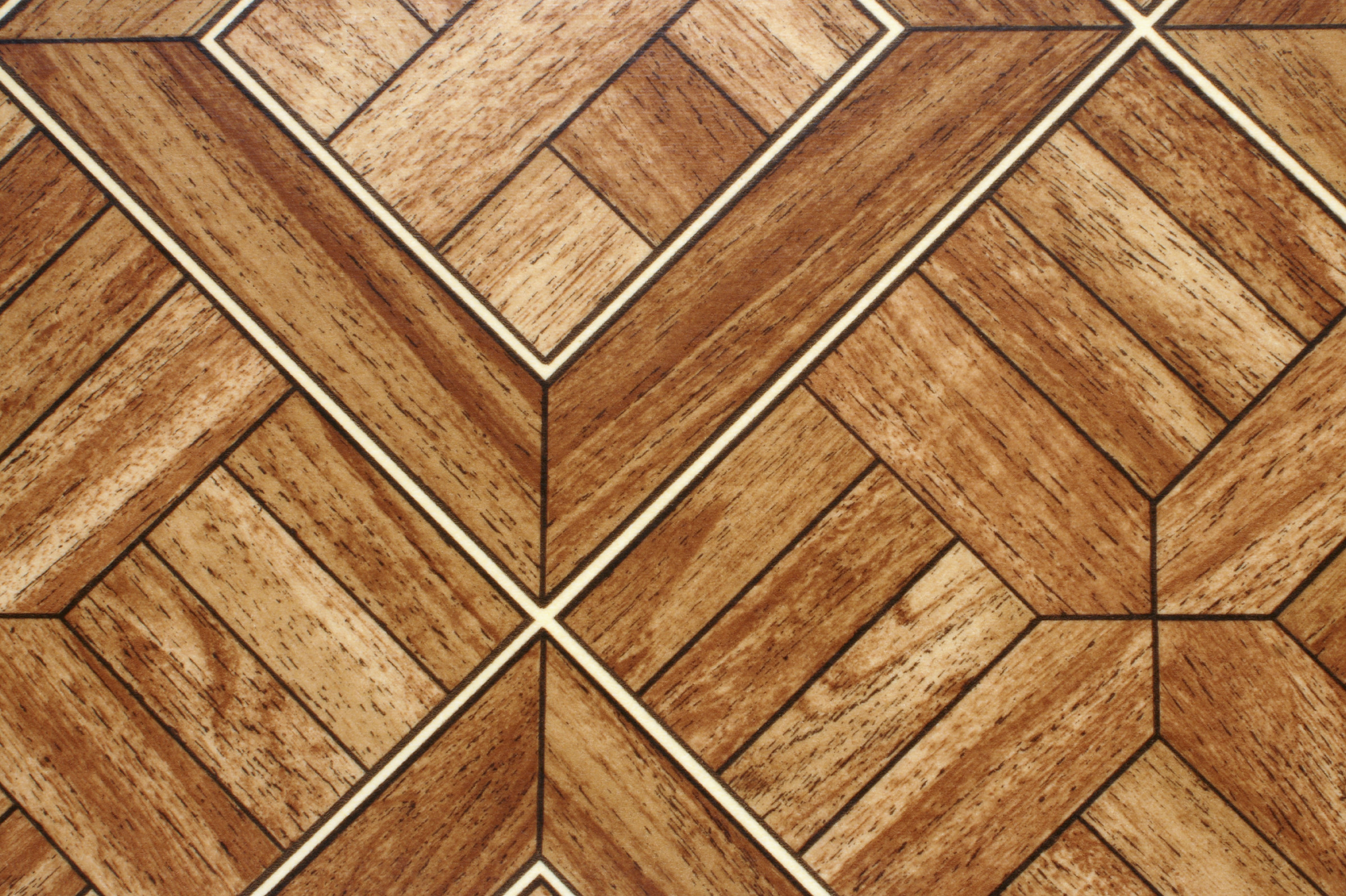 popovaphoto/iStock
Time to say goodbye to your linoleum flooring, especially if you've got that faux-wood effect laminate that was so popular 15 years ago. Choose a classic stone-look tile for your kitchen or penny rounds for your bathroom, or go hardwood—always a safe option.
"Laminate flooring is what wall-to-wall carpeting was 15 years ago," Nizami says."Nobody likes it, and everyone wants to get rid of it. It often looks cheap and feels hollow."
Finch recommends choosing flooring materials that are neutral and appeal to a wide range of people.
After all, everything goes out of style eventually. Aiming for neutrality is the best way to ensure your home remains fashionable—and buyers aren't turned off by anything out of the ordinary.
Jamie Wiebe has written about home design and real estate for House Beautiful, Elle Decor, Veranda, and more. She loves vintage furniture, collecting fluffy blankets, and DIY-ing everything.